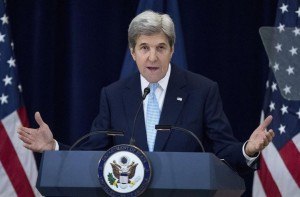 Secretary of State John Kerry's Remarks on Middle East Peace:
Throughout his Administration, President Obama has been deeply committed to Israel and its security, and that commitment has guided his pursuit of peace in the Middle East. This is an issue which, all of you know, I have worked on intensively during my time as Secretary of State for one simple reason: because the two-state solution is the only way to achieve a just and lasting peace between Israelis and Palestinians. It is the only way to ensure Israel's future as a Jewish and democratic state, living in peace and security with its neighbors. It is the only way to ensure a future of freedom and dignity for the Palestinian people. And it is an important way of advancing United States interests in the region.
Despite our best efforts over the years, the two-state solution is now in serious jeopardy.

The truth is that trends on the ground – violence, terrorism, incitement, settlement expansion and the seemingly endless occupation – they are combining to destroy hopes for peace on both sides and increasingly cementing an irreversible one-state reality that most people do not actually want.

Today, there are a number – there are a similar number of Jews and Palestinians living between the Jordan River and the Mediterranean Sea. They have a choice. They can choose to live together in one state, or they can separate into two states. But here is a fundamental reality: if the choice is one state, Israel can either be Jewish or democratic – it cannot be both – and it won't ever really be at peace. Moreover, the Palestinians will never fully realize their vast potential in a homeland of their own with a one-state solution.

Now, most on both sides understand this basic choice, and that is why it is important that polls of Israelis and Palestinians show that there is still strong support for the two-state solution – in theory. They just don't believe that it can happen.

After decades of conflict, many no longer see the other side as people, only as threats and enemies.
Kerry's assertion that "Israel can either be jewish or democratic" touched a nerve, causing yids everywhere to flip their lids.
The context provided by Kerry is testimony to the inordinate power jews wield outside Israel, right now, an open admission that a pro-jew mindset prevails at the highest levels of USGOV and distorts policy-making in the most profound ways. The unhinged response from jews – inverting the situation, imagining themselves victims of powerful enemies – serves mainly to distract from the fact that, as usual, the entire argument is all about what's best for the jews.
As infuriated jewess Mona Charen put it in Stupid Anti-Israel Policy, there are so many ways the stupid goyim could be better serving the jews:
The world is aflame with threats and instability, yet Kerry and Obama, petulant leftists with an Israel fixation, could not resist this last kick in the teeth to the region's sole democracy. They knew it would harm Israel's moral standing – now the delegitimizers can claim that Israel is in violation of "Security Council" resolutions – and give an unmerited win to the Palestinians. Perhaps most infuriating of all, they claim to be doing it all for Israel's own good.
Kerry presents "democracy" and the jew ethnostate as two mutually exclusive ideas, as if jews will some day have to choose one or the other. Yet the two ideas are best understood as complementary outgrowths of the same whatever's-best-for-the-jews premise. The political reality is that the jews have their ethnostate, and its form of government, whatever anyone might call it, has been and will continue to be decided exclusively by jews. When apologists like Charen emphatically advertise Israel as "the region's sole democracy" all they're really saying is that they see it as the duty of everyone else's "democracy" to serve this jew ethnostate. The "two-state solution" Kerry prefers is moot. It's not good enough for the jews, who see no compelling reason to concede anything to their enemies. They already have a "two-state solution" – their ethnostate and a USGOV which serves them too.
Ezra Pound is purported to have noted that "democracy is now currently defined in Europe as a country run by jews". It fits this jew ethnostate, overtly run by jews, just as well. Where Kerry and other "petulant leftists" get hung up is in the pretense there is any more sensible definition.