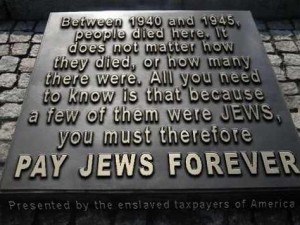 Arizona Allowed to Ban Hispanic Studies, 18 Mar 2013:
Arizona state officials have won a significant legal battle in a long-running saga over a controversial Tucson schools ethnic-studies program, with a federal judge ruling that a law designed to ban it is constitutional. Authorities instrumental in the law's passage said Monday that they feel vindicated in their efforts to ban what they deemed to be racially divisive courses in public schools.
HOUSE BILL 2281 – Arizona State Legislature (PDF):
15-111. Declaration of policy

THE LEGISLATURE FINDS AND DECLARES THAT PUBLIC SCHOOL PUPILS SHOULD BE TAUGHT TO TREAT AND VALUE EACH OTHER AS INDIVIDUALS AND NOT BE TAUGHT TO RESENT OR HATE OTHER RACES OR CLASSES OF PEOPLE.
The centerpiece of jewish anti-White resentment and hatred is specifically exempted:
15-112. Prohibited courses and classes; enforcement
F. NOTHING IN THIS SECTION SHALL BE CONSTRUED TO RESTRICT OR PROHIBIT THE INSTRUCTION OF THE HOLOCAUST, ANY OTHER INSTANCE OF GENOCIDE, OR THE HISTORICAL OPPRESSION OF A PARTICULAR GROUP OF PEOPLE BASED ON ETHNICITY, RACE, OR CLASS.