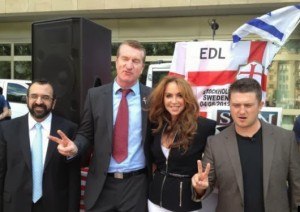 EDL leader Tommy Robinson quits group, BBC News, 8 Oct:
Mr Robinson's co-leader, Kevin Carroll, has also opted to leave.

Their decision follows discussions with the Quilliam group, which describes itself as a "counter-extremism think tank".

Mr Robinson said: "I have been considering this move for a long time because I recognise that, though street demonstrations have brought us to this point, they are no longer productive.

"I acknowledge the dangers of far-right extremism and the ongoing need to counter Islamist ideology not with violence but with better, democratic ideas."

He explained his motives for leaving, telling BBC Radio 5 live's Nicky Campbell: "When some moron lifts up his top and he's got the picture of a mosque saying 'boom' and it's all over the national newspapers, it's me, it's when I pick up my kids from school the parents are looking at me, judging me on that.

"And that's not what I've stood for and my decision to do this is to be true to what I stand for. And whilst I want to lead the revolution against Islamist ideology, I don't want to lead the revolution against Muslims.

"I believe that the revolution needs to come from within the Islamic community and they need to stand up. And I believe this is a step forward not a step back."
Revolution? A politically incorrect shirt convinced Robinson that the English are not worth defending. What he's on about now is no more revolutionary than Madonna. Indeed, it's about spinning in circles, making a stink about "far-right extremism" while the English are steadily displaced and dispossessed by aliens under the auspices of a genocidal state-sanctioned ideology which celebrates mass immigration and compulsory integration.
Tommy Robinson Stands Down From The EDL, Yahoo News UK, 8 Oct:
"I apologise for the fact that what I've said has not resonated individually with Muslims," he told journalists at a news conference.

"I don't hate Muslims. Luton is a completely multicultural town and from day one we've wanted to embrace everyone; all colours and creeds.

"I have a passion to combat Islamist ideology and I want to lead a revolution against that ideology, but I don't want to lead a revolution against Muslims."
He added that in order to solve what he sees as the problem of Islamist extremism in Britain, he needs to work with Muslims not against them.

"We had fought for three years to keep fascists and racists out of the EDL. When I attended our demonstration in Manchester I saw White Power flags that didn't represent me.

"Am I willing to be the public face for them? No I'm not.

"I believe that the revolution needs to come from within the Islamic community and they need to stand up. And I believe this is a step forward not a step back."

Mr Robinson and EDL co-founder Kevin Carroll announced their departure through counter-extremism think tank Quilliam.
In contrast, Robinson doesn't mind being photographed in front of Jew Power flags.
"Multiculturalism" is a propaganda term. It isn't about embracing everyone. It's about embracing the colonization of White homelands and eventual replacement of native White people by alien non-Whites. Whatever Robinson thought he wanted to defend when he first formed the EDL, what he's making clear now is that it isn't England or the English people.
This is no surprise. See for example EDL Exposed, a 49 minute presentation wherein British National Party chairman Nick Griffin describes Robinson's close associates and how their neo-conservatism and counter-jihadism contrast with nationalism. What Lies Behind the English Defence League is a 46 page PDF spelling it out in more detail.
In the political discourse of the current regime the simple act of Whites organizing as Whites is regarded "racist", "extremist", and "far-right". Whatever their actual beliefs, leaders like Robinson and Griffin are targeted for pathologization and demonization precisely because they try to organize and lead groups which appeal overwhelmingly to Whites. Tea Partiers get the same treatment in the US. Robinson seems to think he can end the abuse by singing the regime's anti-"racist" tune ever louder. And whatever Griffin is on about, his careful qualifications concerning the jews won't ever spare him from being identified as a "neo-nazi".
Whites are confused and demoralized. What we could use is less apologetic, less compromising leadership which speaks clearly about what's happening, about who the enemy is, and takes to heart that enemy's guiding principle, "Never forgive, never forget".
Robinson's counter-jihadist comrade Baron Bodissey wrote the following at his blog, Gates of Vienna:
The Quilliam Foundation is one of those quasi-governmental entities that exists to serve the purposes of the governing elites. A coordinated strategy involving it would serve to decapitate the EDL, driving much of the membership of the regional divisions into the arms of the BNP. From the point of view of Cameron, Clegg, and Miliband, nothing could be better: the EDL's effectiveness as street force would be reduced, a renewed BNP would mop up the "Islamophobic" opposition and marginalize them further, and support for UKIP would be weakened.

The BNP is not the real threat to the British Powers That Be — it is widely seen as being an appendage of MI5, and is kept within a cozy anti-Semitic corral like the NPD in Germany, unable to achieve any meaningful electoral success whilst drawing the support of discontented nationalists.
Bodissey and the counter-jihadists he hosts at GoV like to pretend that the Powers That Be are leftists and the biggest problem they're responsible for is islamization. Their diagnosis is suicidal stupidity. Just so. Period. End of story.
It is no coincidence that points of view to the contrary, as with opposition to the ruling regime's agenda, are denounced as "racist" or "nazi" and suppressed. What they don't want to face is that this regime is thoroughly judaized – riddled with jews, part-jews and non-jews who are governed by the same pro-jew/anti-"racist" mindset they are. It isn't possible to oppose this judaized regime in any meaningful way without being "anti-semitic".
Professing love and respect for jews and waving Israeli flags, as the Robinson-led EDL and many counter-jihadists do, is what leftists call dog whistling. They are signalling an implicit recognition of and subordination to jewish power. In spite of this, the EDL and counter-jihadists are still marginalized and regarded as "extremists" even by mainstream conservatives.
What this demonstrates is that the counter-jihadists are more alarmed about islamist "extremism" than the judaized regime is. For the moment the regime is still more interested in solving the White problem once and for all. Counter-jihadists like to talk about Tours and Vienna. They don't like to talk about how the jews in Spain solved their Visigoth problem. The resulting muslim caliphate is what jews to this day refer to as the jewish golden age.
As it turns out, Bodissey's regard for jewish sensibilities hasn't been obsequious enough to please Pamela Geller or Robert Spencer. Each posted nearly identical announcements about Robinson's move (Geller at Atlas Shrugs and Spencer at Jihad Watch) in which their concerns about "fascism" and "anti-semitism" loom larger than anything else, bragging about their influence on Robinson and sniffing dismissively in Bodissey's general direction. Geller writes:
This move has come after many months of deliberation and many years of constant efforts by Robinson and Carroll to prevent the EDL from being infiltrated and co-opted by racists, anti-Semites, fascists, neo-Nazis, and far-right elements. Increasingly, Robinson's time has been taking up with patrolling and policing EDL demos to keep out these infiltrators and far-right ideologues. He has decided, and my AFDI colleague Robert Spencer and I strongly endorse his decision, that his time is better spent working for the defense of England and human rights against Sharia and Islamization in different and more effective ways.

This has been a long time coming. Back on June 30, 2011, I wrote: that because of the "neo-fascists that had infiltrated the administration of the group," I was "withdrawing my support from the EDL." Tommy Robinson immediately issued a a statement to SIOA, saying: "We repudiate any individual, group or writing that favors anti-Semitism, neofascism, and any race-based ideology. Any rogue elements within the EDL who go against our mission statement and our beliefs will be removed from the organization; we are determined to remain true to our mission. Anti-Semitism will not ever be tolerated within the EDL."

These statements drew the ire of some counter-jihad bloggers who apparently didn't mind the racists and anti-Semites within the EDL, and who addressed an Open Letter to me denouncing me for drawing back from the EDL. But a huge group of counter-jihad bloggers declared their support of our stand. When Robinson assured us that he was just as concerned about these elements as we were, and was working to root them out of the EDL, we continued to support the organization.
Like Robinson's "English Defence League", Geller's "counter-jihad" has a misleading name. She could be more honest and call it "goyim-doing-only-what's-best-for-the-jews". But then making it that plain would defeat the whole purpose.