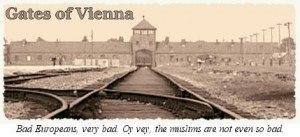 Last week Gates of Vienna administrator Baron Bodissey introduced Here We Go Again like so:
Certain posts at Gates of Vienna, among them those by Takuan Seiyo, tend to attract the attention and comments of people who are preoccupied with the Jews. They frequently refer to "Holohoax" in World War Two, often supplementing their scornful references with obscenities or derogatory epithets.

I generally delete such comments without publishing them. One of them came in this morning, the second or third such screed submitted on Takuan Seiyo's latest post. Before I deleted it, I sent it to Takuan, just to show him what was coming in. He suggested that I go ahead and post it, followed by his response.
Takuan Seiyo claims to be 50% Pole and behaves as if he's 150% jew. His hostility towards Whites naturally provokes a hostile reaction from Whites. Bodissey invites this reaction. He has draped his site with European imagery and presents its mission as a defense of "Christian Europe". Then he publishes articles, especially by Seiyo, and comments, especially from self-righteous jews, advocating in favor of jews even when their concerns conflict with the best interests of Whites.
In this particular article, Seiyo wrote:
I will deal in a later chapter with the issue of White Nats' desperate massaging of Holocaust history as an attempt to wrest Western history from what, to them, should have been the losers, in order to place the skein of narrative back in the hands of what ought to have been the winners, that is, "white people." They don't quite get that WW2 is a story of the ultimate triumph of Western Civilization and of Whites, and that there is no need at all to lie or fall prey to wishful delusions. The losers who wrested the skein of history are not "the Jews" or "the coloreds" but white Marxists-Socialist professors in the 1960s.
In The Bee and the Lamb, Part 9 (Continued), posted earlier the same day, Seiyo wrote:
For over 60 years, White mea-culpists have had a firm grip in all fields of cultural mind imprinting: education high and low; paper media, then electronic, then digital media; all forms of entertainment, the plastic arts and music high and low, and religious instruction and worship too. Their main endeavor has been to enforce their compulsory (e.g. K-12) and discretionary (e.g. television) self-flaying on account of long-ago Slavery, Colonialism, Imperialism, Male Supremacism, Racism, Antisemitism, and so on.
These are perfectly typical examples of Seiyo's preoccupation with blaming Whites while excusing jews. He has been doing it for some time. In July 2010 The Brussels Journal published From Meccania To Atlantis – Part 17: Shotgun Marriage In Europe. In it Seiyo explained how his overriding concern for jews keeps him from caring much about Whites:
It may go on for another 20, 30 , 50 years, until a magic orator appears who will galvanize a cold, reserved and quietly unhappy people the way Hitler did the Germans. After all, what Eurabia has pushed itself into is nothing if not Hitler's revenge anyway. The whole landmass kowtows to Jew-hating Muslims because of what it once did to the Jews. It's one of those ironies that Jews have been destined to bear since the dawn of their history (5).

Some contest the Hitler revenge theory by pointing out that Sweden — perhaps the most self-disemboweling country in Europe — had no part in the Holocaust. But they forget that Jews were not allowed to live in Sweden before 1782, their emancipation did not arrive until 1870, widespread antisemitic sentiments were common well into mid-20th century, with the remarkable actions of Wallenberg and Bernadotte acting as a counterfoil to a popular sentiment that until the end of 1942 had closed off Sweden to Jewish refugees from Nazi persecution, produced antisemitic student protests, and gave rise to the Swedish Anti-Jewish Action League (Sveriges Antijudiska Kampförbund) founded by Einar Åberg. It's germane that the law prohibiting "incitement against an ethnic group" under which the Swedish state prosecutes its anti-Islamization dissidents was enacted due to Åberg's widespread antisemitic activities in the late 1940s and 1950s.
Out of one side of his mouth Seiyo paints Whites as "self-flaying" and "self-disemboweling", denying jews play any part. Out of the other side, he paints jews as blameless victims of White persecution. Either way he doesn't sympathize with Whites, and when confronted by anyone who does he makes his contempt and distaste plain.
Similar attitudes have long prevailed at Gates of Vienna. On 12 Jan 2013, Bodissey posted Confronting the New Fascism in Sweden, which presents a Seiyo-like view of "self-flaying" Swedes being to blame for the anti-Swedish politics and media in Sweden:
Never has the power of projection been more evident than in the political culture of Sweden. From an outsider's perspective, Sweden displays all the attributes of a fascist state: only one political point of view is considered acceptable, and any dissent against it is vigorously punished, by both official and unofficial means. Those who oppose the reigning ideology may lose their jobs or be prosecuted. They are vilified and scapegoated in the (largely state-owned) media to the point where compliant Swedish drones are made to understand that all dissidents are fair game, and deserve anything bad that happens to them.

Now, that sounds like fascism to me. But the Swedish media reserve the term for Sverigedemokraterna (the Sweden Democrats, SD), the only significant political party that opposes mass immigration and challenges the reigning Multicultural ideology.
Bodissey's "outsider's perspective", with "fascism" as the key, is facilitated by a Seiyo-like blindness to the jews in Swedish media and the who, how and why behind "the reigning Multicultural ideology".
Though Bodissey averts his eyes, in this case it's hard to ignore the jews. The article he criticizes is also Seiyo-like, in that it's all about the threat "fascist" Whites pose to jews.
A commenter tries to square the circle, Gates of Vienna style, by unselfconsciously explaining:
The repeated invocation of Jews, Nazis and the Holocaust in his attempt to hammer home his contention that the Swedish Democrats are wicked evil people with an inhumane agenda. Time and time again the primary school teacher appropriates the tragedy of mid C20th Jewish experience for polemic gain. The disgusting reality of course is that the Swedish Left, as with the Left of the entire Western world, is the driving force of hysterical and venomous anti-Israeli, anti-Zionist and, they can deny it 'til they're blue in the face (but no sensible adult would accept such denials), anti-Jewish rhetoric.
In other words, Whites are correct to see sob stories about the jews as anti-White. These are hysterical, venomous attempts to hammer home the contention that Whites are wicked evil people with an inhumane agenda. That's certainly a fitting interpretation of Seiyo's efforts. Bodissey, by giving Seiyo and like-minded commenters a platform while squelching their pro-White critics, aids and abets it.