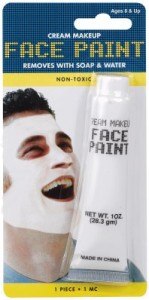 I've used the term faux-White in essays and comments here and in other forums. It merits an explanation.
By faux-White I mean specifically those double-talking pro-jews who try to dictate to Whites who we are and what we're permitted to think. Their rhetoric is also notably disingenously anti-"liberal". They won't squarely face the anti-White nature of neo-liberalism or the jewish interests it serves. They espouse a carefully constrained race-realist neo-"white" version of neo-liberal "non-discrimination": we're all equal but jews are more equal.
For a good example of in-your-face faux-White pro-jewish arrogance read just about anything written by The Undiscovered Jew. For example, see his comments at OneSTDV's "More Thoughts on White Ethnostate". For a double dose of faux-Whiteness see his exchange with Auster in Is human bio-diversity the next conservatism? I noted the strange humor they find in their own confused hypocrisy in A Moron Amused by a Fool Helping an Idiot.
I don't think it's a coincidence that faux-Whites are often semi-jews. They exhibit a deep psychological conflict, craving for whatever reason to be seen as White, or more accurately "white", while deprecating Whiteness. They echo neo-liberal anti-White guilt-tripping even as they strike a pose against it. They tend to ignore, distract from, or dissemble about jewish exclusion/particularism/discrimination/supremacism and anti-White culpability.
Contrast faux-Whites with ordinary Whites, who generally don't want to discuss race, and certainly not jews, but when we do we tend to speak earnestly, without guile. Then compare faux-Whites with ordinary jews, who tend to be openly concerned about what they think is best for jews, and almost unanimously recoil with disgust at White anything. The main difference is that faux-Whites are able to partially mask this disgust and are more cryptic or even in complete denial about the primacy of their pro-jewish priority, but they tellingly denounce anyone who sees through them as "anti-semitic". Rather than attacking from outside they prefer to cloak themselves in "white" as they subvert/co-opt/neuter Whiteness from within.
For more on neo-liberalism, White/jew double standards, and typical faux-White behavior see Fruitloopable Presumption, The Urge to Purge, A Censorious Debate, and Race Realism Meets Tribal Denial (Mencius Moldbug.is more iconoclastic reactionary semi-jew than faux-White).