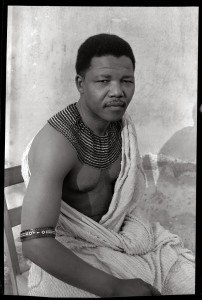 Nelson Mandela remembered by L.A.'s South African Jews, published by the Jewish Journal today, provides more of the usual duplicitous jewish crowing that jews are "white", love Mandela, and therefore helped him "lead" their overthrow of White rule in South Africa.
The broader jewsmedia brims with sorrow for the "civil rights leader", who for decades has been THE black poster boy for the judaized internationalist elite. Mandela was of course a "civil rights leader" only in the ironic sense that his name and face embody the idea that Africa is for the Africans. "Civil rights" means non-White rights.
You see, the judaized internationalist elite plainly doesn't have a problem with majority rule, or minority suffering, as long as it involves non-Whites ruling over Whites. It is just a corollary of the deeper law of "civil rights" illustrated by Israel, or for that matter anywhere else on the planet, whereby the rule of any number of jews over any number of non-jews is sacrosanct, and any challenge a sacrilege.