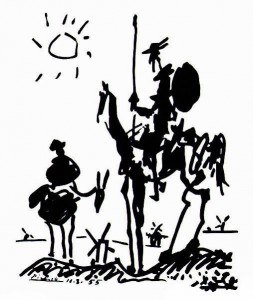 On Carolyn and Tan is Chechar's latest effort to explain why I suck. It amounts to the fact that I don't share his position, that Whites suck:
In other words, Tan leaves Christianity off the hook. Only Jews are to be blamed. He has never replied to my very iterated argument that here in what used to be called New Spain the Inquisition, already familiar with the Jewish tricks at the Iberian Peninsula, persecuted the crypto-Jews; that New Spain was the first Judenfrei state in the continent, and that even sans Jews the Spaniards and the Creoles managed to blunder on a continental scale to the point of destroying their gene pool with Amerinds and the imported Negroes.

Hardly the Jews can be blamed for what happened here or even at the Iberian Peninsula. It was clearly a case of white suicide sans Jews.
As I've explained before, I'm not inclined to make lengthy or frequent responses to Chechar because he mainly craves attention and doesn't really offer any new or useful ideas. His belief that Whites suck is already the dominant belief amongst Whites, and it's doing Whites great harm. To put it bluntly, I don't believe Chechar offers honest criticism of Whites, much less my positions.
As I noted in my conversation with Carolyn on White pathology, many Whites go back through history searching for answers. What I find most bizarre are the ones who go back out of a desire to "prove" that the answer is not the jews. Chechar is one example of this. Another that comes to mind is Ian Jobling.
Chechar argues that I blame the jews entirely as a way of excusing Whites entirely, that I have identified attempts to excuse jews by blaming Whites (the suicide meme), therefore I must be trying to accomplish the opposite. Basically Chechar likes the suicide meme, thus he dislikes my pointing it out and arguing against it.
Chechar's argument for White suicide is based on a tautological rationale that can hardly even be called an argument. He cites two inter-related phenomena, the history of Christianity and Spain, exactly because in his mind Whites are entirely responsible for them. Therefore, not the jews. QED.
Chechar's just-so argument is not simply wrong, it's wrong in an ironic and telling way. Chechar misinterprets and downplays the influence of jews on both Christianity and Spain, and jewish crypsis more generally. Briefly put, he agrees with the jewish narrative – that Christians persecuted jews, therefore Europeans are responsible for Christianity. The reasoning is based, first of all, on the false notion that jews, once "converted", turn into Europeans. Second, it requires a willful misreading of the persecution, calling attention to the exception, the jews who were most obvious, to distract from the rule, the jews who were more or less successful in infiltrating and manipulating Christianity without much notice.
Any model of reality which is true, not to mention constructed from a point of view in favor of Whites, must account for the jews, and especially jewish crypsis – their deliberate deceptions about who they are and what they're up to. Jewish crypsis, if nothing else, is evidence of jewish hostility toward Whites. According to the jewish narrative, Whites are to blame for it. According to Chechar the jews don't even matter. In my view, people who argue as Chechar does are either knaves or fools. Throughout history the jews have cultivated and exploited exactly this kind of behavior in their hosts, preaching blindness and ignorance while they condemn and cavort however they please.
In his conclusion Chechar quotes approvingly the following comment:
it's hard to blame the parasite when the host has developed a symbiotic relationship with it. Still I just think focusing on the Jews is a waste of time, people get emotional and discussions are seldom productive.
It's hard to see this as anything but an excuse for jewish parasitism. If White/jew relations were symbiotic there wouldn't be anything to get emotional about. But jews and their sympathizers do get emotional, using that and other excuses to prevent and derail such discussions. From a parasite's point of view discussions about parasitism can't be good for the parasites. From a White point of view that's exactly why Whites should discuss it, not shut up.