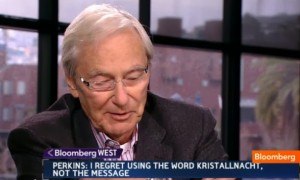 In a short letter to the Wall Street Journal, Progressive Kristallnacht Coming?, Tom Perkins, the Silicon Valley venture capitalist, retired founder of Kleiner Perkins Caufield & Byers, expressed a simple-minded concern which appeared not at all out of step with the thoroughly judaized contemporary political discourse:
I would call attention to the parallels of fascist Nazi Germany to its war on its "one percent," namely its Jews, to the progressive war on the American one percent, namely the "rich."
This is a very dangerous drift in our American thinking. Kristallnacht was unthinkable in 1930; is its descendant "progressive" radicalism unthinkable now?
The response from outraged jews was swift and venomous. Undeterred by Perkins' wealth, power and love of jews, jews big and small have taken to their soapboxes to insult and lecture him. The gist of it all is to self-righteously inform Perkins, and any other uppity goyim who might be under a similarly mistaken impression, that only jews are permitted to invoke the jewish narrative.
To illustrate I've selected a few of the clearer examples of jews getting so carried away with their attempts to describe what Perkins has done wrong and condemn him for it that they effectively end up describing and condemning themselves and their tribe.
Steven Greenhouse, labor and workplace correspondent for the New York Times, issued this twit:
As someone who lost numerous relatives to the Nazi gas chambers, I find statements like this revolting & inexplicable
Then this one:
Rather shocking that Tom Perkins seems to embrace Nazi Germany's stereotype that Jews were Europe's rich 1%
Perkins' mistakes are hardly inexplicable. It's jews who have filled his head with nonsense. He has internalized jewish myths. He has misunderstood jewish self-pity and self-concern as applying more generally to wealthy minorities.
What Greenhouse is revolted and shocked about is Perkins equating the merely rich to the jews. Greenhouse knows there is no such equivalence. His hysterical overreaction probably has less to do with events decades past and more to do with the "stereotype" of jews in the 1% of the right here and now.
For a lecture about the jewish version of history, Greenhouse links a Salon article by Elias Isquith, titled Wealthy venture capitalist Tom Perkins says the 1% in America are treated like Jews in Nazi Germany:
For those who don't already know: Kristallnacht was a giant anti-Semitic riot, organized by the Nazi government, that left nearly 100 Jews in Germany and Austria murdered and resulted in the incarceration of some tens of thousands more in concentration camps. It was an act of coordinated barbarism done in service of the Nazis' ultimate goal, the expulsion (and, later, elimination) of Europe's Jewish population.
Is it any mystery why accounts that differ from the jewish narrative go unknown or unheeded? Look how jews howl and bring to heel even someone rich and famous who tries to parrot their story in some way that doesn't please them.
For those who don't already know, there are other versions of history that don't excuse the jews. For example, Carolyn Yeager, based on the work of Ingrid Weckert, has made a convincing argument that organized jewry instigated and benefited from "Kristallnacht".
As confused and conflicted as Matthew Yglesias is about jewish identity, he is confident that Tom Perkins is nuts and that his letter "certainly proves you can get rich without being very thoughtful, perceptive, or intelligent".
Steve Benen, another ambiguous jew, aims his psychoanalysis more broadly, claiming the letter reflects "a persecution complex at the heart of conservative ideology" "that bordered on self-parody". For one thing, it certainly proves you can get a gig defending the jews at MSNBC without being very thoughtful, perceptive, or intelligent.
One of the more telling responses I've encountered so far comes from Mark Suster. If not for his overweening jewish superiority Suster would come closest to being a peer of Perkins. Suster's response to "this terribly insensitive and tone deaf letter", Putting Tom Perkins Comments into Context, begins:
Um. Seriously?

People of middle or lower income families protesting the concentration of wealth in America is the same as a political party in Germany instituting a policy of systematically killing 6 million Jews and countless more who didn't fit the model Aryan citizen?

It probably doesn't take much more to explain how disconnected from reality Tom Perkins is.
Perkins, recall, referred to the jewish Kristallnacht myth, not their six million myth. It is Suster and his tribemates who are disconnected from reality.
Referring to a WSJ article in which Perkins claims others call him the king of Silicon Valley, Suster mocks:
Who says out loud that they are the king of anything?

I'm sorry, Mr. Perkins. You are now the bumbling dunce of Silicon Valley.
True enough. How much of a king can anyone be when the jews can so easily transform them into a bumbling dunce?
This is not a mere gaffe that people won't remember in 3 years. Perkins will forever be associated with greed, insensitivity and lack of historical context.
Never forgive, never forget. Vex the jews and they will ensure that you go down in their history as the one who is greedy and insensitive.
And then there are the Jews of which I am one.

Mr. Perkins. Jewish people weren't persecuted merely for their financial successes and it's total mythology to believe all Jewish people are wealthy despite our population over-indexing in education, arts and wealth. Jews were persecuted for being different. The sort of mindless intolerance that I see lobbed today against Muslim people, African Americans, gay couples and others.

Jews followed their own rituals that made them seem "strange" to gentiles. Jews were excluded from trade guilds across Europe for hundreds of years which made it impossible for Jewish people to have a normal, stable income from the most important jobs of those era. Because they couldn't have "normal" professions they become traders, peddlers, market makers and financiers.
Again we see Suster's disconnection from reality and arrogance in lecturing others about what is or isn't mythology. His account of the one-sided jewish version of history is quite typical. We're to believe Europeans somehow couldn't ever make the jews leave but could compel them to become financiers.
But…
Jews weren't persecuted for being rich. Jews were scapegoated whenever countries had economic problems simply because they were different and were an easy target for political leaders. It's a societal consequence when times turn bad and people affected look for somebody to blame.
This too is a common jewish account of "scapegoating". What the financier jew is saying is that when there are economic problems the people shouldn't blame financier jews, they should instead blame themselves for blaming the financier jews, not to mention forcing the jews to become financiers in the first place.
Mr. Perkins. I am a member of the 1%. Yes, I earned it. But with a lot of help that many of the 350 million other Americans don't have. I'm ok with you having extravagant houses and competing with the likes of Larry Ellison for extreme spending on Yachts and such. That's your prerogative.

But when it comes for speaking for our great state or country. When it comes to speaking for Jews around the world. When it comes for speaking up for venture capitalists for which you are simply not a "king" I have but one bit of advice.

STFU.
Not only is there no honor among thieves, in the minds of commissars like Suster only the jewish thieves should be speaking for anyone.
As illuminating as these examples have been, I've saved the most pompously self-unaware for last. Paul Krugman titled his New York Times op-ed Paranoia of the Plutocrats. He begins like Benen, by making it clear that his critique is aimed at a broader group:
You may say that this is just one crazy guy and wonder why The Journal would publish such a thing. But Mr. Perkins isn't that much of an outlier.
Here's the punchline:
But every group finds itself facing criticism, and ends up on the losing side of policy disputes, somewhere along the way; that's democracy. The question is what happens next. Normal people take it in stride; even if they're angry and bitter over political setbacks, they don't cry persecution, compare their critics to Nazis and insist that the world revolves around their hurt feelings. But the rich are different from you and me.

And yes, that's partly because they have more money, and the power that goes with it. They can and all too often do surround themselves with courtiers who tell them what they want to hear and never, ever, tell them they're being foolish. They're accustomed to being treated with deference, not just by the people they hire but by politicians who want their campaign contributions. And so they are shocked to discover that money can't buy everything, can't insulate them from all adversity.

I also suspect that today's Masters of the Universe are insecure about the nature of their success. We're not talking captains of industry here, men who make stuff. We are, instead, talking about wheeler-dealers, men who push money around and get rich by skimming some off the top as it sloshes by. They may boast that they are job creators, the people who make the economy work, but are they really adding value? Many of us doubt it — and so, I suspect, do some of the wealthy themselves, a form of self-doubt that causes them to lash out even more furiously at their critics.
There you have it. The jews aren't normal people. They see themselves as somewhere outside and above normal. That's why they can think and write so critically about others without seeing how the criticism applies to themselves, without even thinking that they or anyone else could apply it to themselves.
It isn't self-doubt that makes the jews lash out furiously at their critics, much less at someone like Perkins, who grovels for them. It is an aggressive sadism. A hostility born of racial animus, enabled by a confidence born of racial solidarity. They see themselves having more in common with each other, rich or poor, left or right, than they do with any multi-millionaire goy.
Some jews no doubt fear their group's cover being blown, their depredations being revealed. Not the ones I've quoted here. These jews appear confident that they can say and do as they please, no matter how blatantly overbearing.