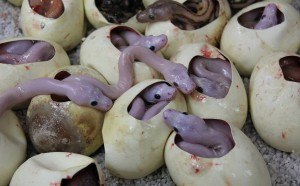 First, let's listen to a jew explain what Passover means to the jews. "We can't let them win": Passover is more than a holiday — it's a call to arms against oppression:
Passover is more than just a holiday. It's a call to arms. I have realized and maybe you did, too, even before the election laid bare the fight we would face, that above all else Passover is the story of a successful uprising against tyranny. It is a story dripping with hope, one that inherently looks to the future — a story we need this year in America more than ever.

As a people, we Jews have historically led the resistance against intolerance and persecution, from championing the civil rights movement to standing up against authoritarianism in all its guises. We have always sought a better world, not only for ourselves but also our children. This Passover we must come together, urgently, to sit among friends and family and listen to the unprecedented story of a profound resistance. We must remember that we have faced dark times before — in Egypt, in Spain, in Auschwitz — and that we have outlasted them. We will outlast these dark, turbulent times as well, not just because we continue to stand on the right side of history, but also because, as targets of hate and survivors of it, we know exactly what's at stake if we fail.
This is a concise, precise formulation of the jew narrative. It clearly indicates the jew-centric origin of the most powerful weaponized buzzterms used against Whites today – "intolerance", "persecution", "civil rights", "authoritarianism", "seeking a better life for ourselves and our family" – and connects it directly to the long string of hosts jews have previously infiltrated, exploited, and ultimately exterminated.
Jew holidays are nothing more and nothing less than a regular opportunity for "the jewish people" to remind each other of their conspiracy against everyone else, and to celebrate the tremendous advantage their jew-righteous jew-justifying jew-first mindset gives them in that fight.
Now listen to how the jews' narrative is distorted and misinterpreted by the jews' most powerful servant and millions of his witless Christian supporters. President Trump Easter Holiday Message To The Nation:
This week, jewish families across our country, and around the world, celebrate Passover and retell the story of God's deliverance of the jewish people. The story of the Exodus is a story of freedom. It is the story of an incredible people who were liberated from oppression and raised up the face of humankind.

Down through the centuries, the jewish people have lived through one persecution after another–and yet, they persevered and thrived and uplifted the world beyond measure. And now, the state of Israel stands as a monument to their faith and endurance.
The jews' hostile particularist us-versus-them narrative has been transformed into an Animal Farmish jews-are-the-best-of-us form.
Whereas jews see Whites (Christian or not) as alien enemies whose mere existence amounts to oppression, Whites misinterpret jews not only as friends but as moral superiors who have been unjustly persecuted. Whereas the view jews share with each other emboldens and empowers them, the delusions jews encourage among their hosts confuse, demoralize, and ultimately destroy them.
During his selection campaign, the kikeservative-in-chief often reminded his supporters of the dangers of such destructive behavior by recounting the ancient European parables of The Trojan Horse and The Snake. And as usual for dire warnings about "pathological altruism", the fatal conceit of Trump's enraptured audience was that he was talking about somebody else's error.