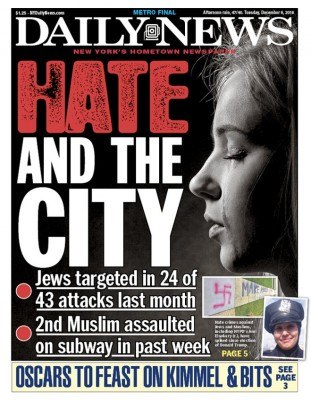 ADL jew Etzion Neuer twits: "Today's @NYDailyNews front page confirms what @ADL_NY knew: it has been far too busy in the last month. #fighthate"
Neurotic jews busy painting mangled swastikas. The jewsmedia and lobbyists busy screeching, "FIGHT HATE!!1!". Kikeservatives in government and academia busy serving the jews:
Sen. Bob Casey (D-PA) and Sen. Tim Scott (R-SC) have introduced the Anti-Semitism Awareness Act which according to a statement on Casey's website is meant to "to ensure the U.S. Department of Education (DOE) has the necessary statutory tools at their disposal to investigate anti-Jewish incidents" on college campuses.

Citing a recent FBI report stating over half of all reported hate crimes in 2015 were of an anti-Semitic nature, the senators claim their bill is necessary to provide the DOE with the "firm guidance" it needs to determine "what constitutes anti-Semitism."
The bill's definition of "anti-Semitism" is directly culled from a 2010 State Department memo, which The University of California Board of Regents considered adopting as official policy, before ultimately agreeing to a softer condemnation of "Anti-Semitism, anti-semitic forms of anti-Zionism," but not a blanket ban on anti-Zionist expression itself.
Unfortunately, the bill also proposes the following as examples of hate crimes:

Accusing the Jews as a people, or Israel as a state, of inventing or exaggerating the Holocaust
Demonizing Israel by blaming it for all inter-religious or political tensions
Judge Israel by a double standard that one would not apply to any other democratic nation
No other other group has government departments specifically dedicated to promoting their interests. No other group enjoys the privileged protection of speech codes and laws which specifically condemn and even criminalize their political opponents. Only the jews.