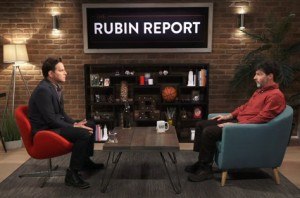 It takes an hour of dancing around for these two jews, Rubin and Weinstein, to get across what's happening at Evergreen State College – that Weinstein has been mistaken for White and thus falsely accused of "racism", that he is in fact an anti-White jew. In Weinstein's Wall Street Journal op-ed and short interview with Tucker Carlson he avoids mentioning these particular aspects of his identity, though they are crucial to making sense of the controversy. It is only over the course of the long interview with his tribemate that it emerges Weinstein is only speaking out, and being given sympathetic jewsmedia attention, because he sees himself as a righteous jew and "anti-racist".
The exchange between Rubin and Weinstein is so long and elaborately coded because they both well understand that bluntly stating what's going on would give the game away. The name of the game is "anti-racism", a jew-led and racially-motivated assault on Whites whose scope and harm extends far beyond this recent and relatively minor incident at Evergreen. The "social sciences" departments at universities have for decades effectively served as "anti-racist" weapons labs and proving grounds, where anti-White rhetoric and tactics are developed and tested before being deployed more broadly for use by governments and corporations.
"Anti-racism" is a full-spectrum assault. At one end are jews who openly identify and organize as jews to advance the interests of jews. These jews claim moral authority as an historically marginalized and oppressed minority while barking commands at ostensibly non-jew institutions. On the other end of the spectrum are jews who infiltrate and influence ostensibly non-jew institutions from the inside, where they dissimulate as "white". These jews claim moral authority as "fellow whites" while shitting on Whites.
There are more jews along the spectrum than at either end – some more pro-jew, others more anti-White. But all their "anti-racism" pushes in the same general direction, faulting Whites for being White while excusing jew jewing. The terminology of semitical correctness is orwellian, the rationale tautological. Opposition to the assault on Whites can by definition only come from "racists". Noticing that the assault on Whites is led by jews, or that jews network to protect each other from such targeting, is "anti-semitism". To distinguish Whites from jews is "racist". To fail to distinguish jews from Whites is "anti-semitism".
So what's going on at Evergreen is really just a bit of blowback. "Anti-racism" has always been a mask for anti-Whitism, but its true nature is now becoming more overt. It is starting to materialize as official restrictions and physical attacks on Whites, unabashedly justified as compensation for "White privilege" or "White supremacy". The attack has progressed to the point that any White in a position of power or privilege who might unapologetically identify as White has already been removed, so now it is starting to redound somewhat onto the army of transracialist jews who have steadily and stealthily taken their place.
The controversy around Evergreen shines a light on the "anti-racism" double-talk. For years, when the "Day of Absence" was a passive-aggressive non-White boycott targeting Whites, Weinstein sympathized. He even thought it wan't effective enough. Now that the event has metastasized into a thinly-veiled White ban, where anyone with whitish skin is actively harassed, Weinstein is suddenly opposed. His various attempts to explain this change are telling.
Speaking in brief to a general audience Weinstein is dishonest. Put on the spot about his racial motives by Carlson, the otherwise articulate Weinstein "uhh… wells…" his way past it. He's just "deeply progressive" and "troubled about what this implies about the state of the left". He specifically blames the Evergreen administration for his troubles, and particularly George Bridges, though he struggles to explain why. Credulous Carlson fails to press Weinstein, all too eager to mistake him as a victim of the "Campus Crazyiness" rather than one of its quite willing and conscious proponents.
In his WSJ op-ed Weinstein is even less forthcoming about his identity and motives. Instead he focuses on channeling Niemöller, painting himself as a canary in the coalmine. Here too Weinstein lays the blame on Bridges, though apparently only for being more committed to the anti-White "anti-racist"/"social justice"/"critical theory" agenda than he is himself.
It is only when speaking at length with Rubin, who cohencidentally happens to be a friend of Weinstein's brother, that we get a glimpse of Weinstein's real identity and motive. Early on Rubin asks Weinstein why he changed his position on Evergreen's anti-White "Day of Absence", why he is only now speaking out. Weinstein explains, "I'm jewish, and, umm, alarm bells go off when I'm told I'm not supposed to be somewhere".
Much later in the interview Rubin kids Weinstein about his "deep progressive" shtick and they share a knowing chuckle. Weinstein smirks as he admits he's an "anti-racist". He complains there isn't enough "nuance" in existing narratives, either on campus or in the jewsmedia, wishing he could just say, "oy vey, stop attacking me already, I'm an anti-White jew", without saying it.
Indeed, Weinstein is "anti-racism" personified, the tip of a gigantic but largely hidden and ever-shifting jew-berg. He's vilified by anti-White goyim, who actually hate him for behaving like a jew, but who would never dare say so because that would be "anti-semitism". And he's lionized by White goyim, who mistake him as a "fellow white", but who would never dare say so because that would be "racism". To top it off he paints himself as the victim while he calls for the head of his nominal boss. As he subtly intimates to Rubin, Bridges' crime is in taking "anti-racism" too far, thus failing to protect jews like himself from the harmful effects of the anti-White war they are waging.