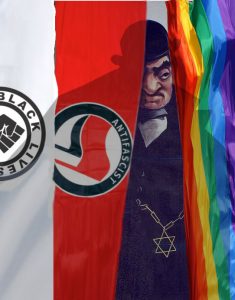 Michael Tracey started a Clubhouse chat to discuss how the Clubhouse chats he's in always devolve into a criticism of "wokeism", and how nobody in his "liberal" bubble ever tries to defend it. For about 90 minutes that's exactly what happens. Very boring, very politically correct – with everyone trying to sound like a deep thinker, unable to plainly state what they're thinking.
Somebody recorded the bulk of the conversation and uploaded it to YouTube: "Is Clubhouse Obsessed with "Wokeism"?" Feb 26th 2021. I transcoded it to mp3.
Without the aid of Clubhouse avatars it's sometimes hard to tell who's speaking. The speaker's race is easier to guess. Tracey bragged that there were plenty of non-White participants from various countries, but for the most part they conformed to White social norms. The jewy-behaving moderators carefully curated the conversation, allowing a series of jewy- and black-sounding voices to "popcorn in" and say their little piece of nothing.
The conversation finally got interesting at about 1:20:00, when the first overt defender of "wokeism" spoke. The mood becomes increasingly fraught. Within ten minutes someone was announcing that "the milquetoast stuff needs to stop" and the conversation needs to be about "White supremacy".
About two hours in an aggressive nigress named Brooklyn enters, starts berating Tracey, gets admin privileges, and bounces Tracey out of his own chat. The mood changes dramatically. Niggers now control the room, whooping and high-fiving, talking over each other.
Even as they settle down it becomes clear that black social norms are very different. Brooklyn and the other field niggers are incensed that White people had the audacity to speak about proprietary black topics using proprietary black words. They giggle as they silence non-blacks. They institute "stack"-style moderation, explicitly privileging blacks. Brooklyn asserts the term and tactic were invented by blacks.
House niggers who were in the room from the start drop their masks and denounce the previous long boring politically correct conversation as "anti-black" and "violent". They praise the field niggers for swooping in and saving them. The field niggers castigate the house niggers, accusing them of "cooning".
One of the milquetoast nigresses says Tracey made her a moderator, and that she was the one who started the coup by elevating Brooklyn. They share a knowing laugh about their virtual "Haitian revolution".
Tracey never saw any defense of "wokeism" because it's proponents don't defend, they attack. Like jews, blacks imagine themselves as victims of oppression, at the hands of Whites, and in their minds this naturally justifies the hostility and aggression they direct at Whites. They act offended at the idea that they have to argue with or even explain what they want.
At 2:45:00 Brooklyn notices Bret Weinstein is in the room. Saying Weinstein is a "mad racist" who is supposedly promoted by Clubhouse, she invites him to speak.
For years Weinstein has danced around what he is and what he believes. Here he finally copped to it, and did so even more bluntly than his older brother recently has.
Weinstein: Can I ask something of you, before I answer your questions?

Brooklyn: Did you answer those questions? Do you support White supremacy, are you anti-"racist"…

Someone else: and transphobia.

W: Okay. I'm happy to do all these things, but I would ask you to try to listen…

B: Listen, white man, we're in charge here, okay? We axed you some questions. You can answer or you can go.

Some black male: Here's da problem Bret. It's the same thing as if I was to axe the president of the United States, or the previous president…

B: We're not gonna do dat. Axe him, bro. Are you anti-racist? Are you transphobic? Are you anti-black, like give us the answers right now and quickly or you gonna get off the stage.

W: Sure, sure. 100%. But let me correct something Marcy said first.

B: 100% what? Are you 100% anti-black or are you 100% anti-racist? What's goin on?

W: I am 100%…

crosstalk

B: Can you all stop trying to let this man wiggle out of answering the questions?

W: First of all, I'm not a classical liberal, I'm an actual liberal. Okay? Far left. Have been my whole life. I am thoroughly anti-racist by any normal definition, but I don't like Kendi's definition of anti-racist, it doesn't make sense to me. I'm not by any stretch of the imagination a White supremacist. As a matter of fact I'm not even sure I qualify as White. I'm jewish. It's a different thing. My people have been persecuted by Europeans…

B: You are just spicy white, but continue.

W: Okay, fine, I'll take that. I just don't think it's a simple issue. And to be honest I'm…was there a third question? Oh, am I transphobic? I am not the least bit transphobic. As a matter of fact I…

B: Stop right there.
At this point the discussion goes off into the "transphobia" weeds, with everyone involved oddly eager to drop any further discussion of the difference between Whites and jews. Shortly thereafter Weinstein describes himself as an evolutionary biologist. Brooklyn says, "A eugenicist. Dats what you mean." A minute later they call Weinstein a White supremacist and mute him.
There is no reason to listen to the entire 5 hour and 20 minute recording. The 8 or so minutes with Weinstein are the most telling, capturing the essence of the farce, which is itself a microcosm of the shift in the broader jew agenda, the replacement of "liberalism" with "wokeism".
Dissembling dissimulating jews, authors of the oppression narrative, posing as White liberals, leading the White surrender to non-Whites. To the extent the Weinsteins ever argue with non-Whites it is only to get across their point that, as jews, they also see Whites as their enemy.