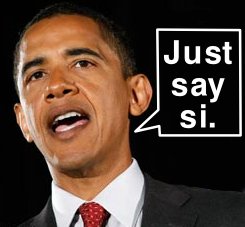 Barack Obama: Your Children Should Learn To Speak Spanish.
Transcription via World On the Web:
I don't understand when people are going around worrying about we need to have English-only. They want to pass a law, we want just … we want English-only.
He begins with a lie. He understands what this means. He wants Americans to accept their fate as a conquered people.
Now I agree that immigrants should learn English. I agree with that. But … understand this: Instead of worrying about whether immigrants can learn English—they'll learn English—you need to make sure your child can speak Spanish. You should be thinking about how can your child become bilingual? We should have every child speaking more than one language
More lies. The invaders aren't learning English. That's the only reason Americans have to learn spanish. The emphasis on children makes it even clearer. The invaders should all know English by the time our kids learn spanish, right Obama? So why bother? Because he's talking about us adapting to latino colonization.
Widespread multilingualism isn't a good thing, it's a bad thing. Tower of Babel bad.
Bilingualism is part of the bigger lie of "diversity". What it really means is division. The spanish language and the latinos who carry it here bring us confusion. They bring resentment. This is a natural and predictable consequence of alien invasion.
You know, it's embarrassing … when Europeans come over here, they all speak English, they speak French, they speak German. And then we go over to Europe, and all we can say is "Merci beaucoup." Right?
Embarassed? About what? The vast majority of people who have ever lived, who will ever live, master only one language. Why do Obama and the Pilgrim-haters who support him only pathologize stupid, lazy, bitter, racist Americans for this? What's next, we're inferior because we don't speak chinese?
Why compare Americans to Europeans? Why not compare us to the latinos Obama wants to replace us with? How many latinos speak more than one language? How many of them know what irony means? Because it's ironic that the amerinds and mestizos use the word reconquista – speaking in the tongue of the European conquerors they supposedly detest – to describe what they want to do, and are doing, to America. Hypocrites.
Does Obama know what reconquista means? How about raza, aztlan, mecha, guero, and gabacho? Those are the very first spanish words Americans should learn.
Where I come from we have a very useful expression. Fuck that shit. Pardon my French. Feel free to translate it into spanish, ebonics, and hebrew for the benefit of Obama and his supporters.