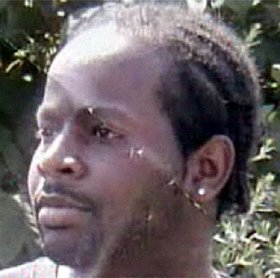 Oddly, last night Manchester, Connecticut Shooting.: Several Dead; Omar Thornton Identified As Shooter, at the LA Times, was at the top of a Google news search for Thornton. The fact that Thornton was black was mentioned three or four paragraphs in. On page 4 the significance of the Hollander family was mentioned. Unfortunately I did not excerpt the story, and cannot find any archive of it.
Today that LAT link redirects to a two page report, Manchester Shooting: 9 Dead; Omar Thornton Identified As Shooter at Courant.com, which omits both facts.
Searching again today it is possible to find other stories that make Thornton's race and race-based motivation clear, eg. Omar Thornton: "I Killed the Five Racists" – Crimesider – CBS News.
However, most mainstream stories have, as of now, reduced the jewish angle to orthodox jew Louis Felder being amongst those killed.
The Hollander reference remains at Jewish father of 3 killed in Conn. rampage | JTA – Jewish & Israel News:
Steve Hollander, the company's head of marketing, and a member of the Hollander family that founded and owns the company, was reported to have been shot, according to the Hartford Courant.

"The Hollander family is probably one of the most venerated families in the Hartford area in the Jewish community," U.S. Rep. John Larson (D-Conn.) told the Courant. "There isn't a charity that they haven't contributed to."
The LAT and Courant may have memory-holed this aspect of the story, but the New York Times hasn't: Behind Hartford Distributors, a Charitable Family.
When Whites commit crimes, nobody in the media makes excuses. If there's a racial angle it is magnified, not suppressed. Such incidents produce immediate calls to pathologize and silence "conservatives"/"teabaggers"/"haters", however tenuously linked to the incident. The insinuation, if not outright accusation, is that any expression of collective interests by Whites is immoral, unethical, and evil. Even when Whites don't explicitly identify or organize by race we are cynically accused of deviously hiding our true motives.
Of course the broad-based anti-White "anti-racism" pumped out by the media 24/7 can be measured by the same yardstick. The media uniformly treats "people of color" as having legitimate grievances both as a whole as as various independent non-White "communities". They serve up numerous narratives concerning suffering and perennial victimhood at the hands of Whites, encourage activism on this basis, and generally defend those who do act. Taken as a whole it constitutes a deliberate incitement to violence against Whites. And that's exactly what it produces.
Sometimes this impacts jews. To the extent Thornton was acting on a hatred of Whites he'll be painted by the media as a victim and "racism" will be blamed. On the other hand, if it is determined that Thornton was acting against jews he'll be demonized and the most politically incorrect form of "racism", "anti-semitism", will be blamed. Either way, "anti-racism" is both excused and validated at the same time.
See also Christoper Donovan: Hate-Fueled Black Mass Murderer in Connecticut Spun as 'Disgruntled Man' by Media at The Occidental Observer Blog, and Racism Charges Not Without Consequences at Mangan's.