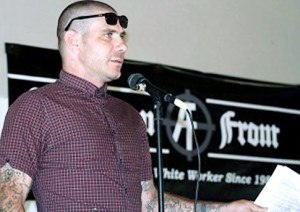 White Supremacist David Lynch Shot in Head at Home, ABC, Russell Goldman, 4 March 2011:
One of the country's leading white supremacists was gunned down in his California home, shot in the head and torso as his pregnant girlfriend watched, police said.

David Lynch, 40, an organizer for the American Front, one of the country's oldest skinhead groups, was killed in his home early Wednesday morning. Lynch's 33-year-old girlfriend, who is five months pregnant, was shot in the leg.
Soon after police responded to the 911 call, they arrested Charles Demar, 36, another white supremacist and acquaintance of Lynch. Authorities are calling Demar "a person of interest." They charged him with drug possession.

Since the 1980s, Lynch has been on the radar of law enforcement and organizations that monitor hate groups.

The Southern Poverty Law Center describes Lynch as a "clever and charismatic racist skinhead organizer whose history of racist activism dates back to the late 1980s."

Lynch rose through the ranks of California's skinhead movement, consolidating power and ultimately uniting once rival racist organizations throughout the state, as well as in Utah, Florida and Canada, according to the SPLC. In 2005, he met with then-National Alliance chairman William Pierce, perhaps the most prominent American neo-Nazi, when Pierce visited Sacramento, according to SPLC.
The Anti-Defamation League calls the American Front one of the "oldest continuously active racist skinhead groups in the United States."
On its website the group describes itself as "a collective of highly motivated racialists of European descent, striving to establish an autonomous homeland for American whites, dedicated to securing, advancing, and defending the sacred blood of our glorious ancestors at all costs." Since his death, white supremacists have taken to the Internet to mourn Lynch.

On the Website of White Revolution, a caption under his photo reads "Hero, Patriot, and Friend."

Writing on the same site, Billy Roper, whom the SPLC calls "the uncensored voice of violent neo-Nazism," wrote: "Dave Lynch: My Friend, and one of the best men I've ever known, a hero of our people and our cause. We are in shock."
White supremacist David Lynch shot dead, Calif. police arrest "person of interest", CBS, Camille Mann, 4 March 2011.
Police have arrested a person of interest in the killing of prominent white supremacist David Lynch, a chief organizer of the skinhead movement in the 1980s.
David Lynch, white supremacist leader of the American Front, shot dead in California home: cops, NY Daily News, Aliyah Shahid, 4 March 2011:
Lynch was the leader of the American Front, which according to the Anti-Defamation League is one of the "oldest continuously active racist skinhead groups in the United States." He began working as an organizer for the group in the 1980s.

"The group espouses an anti-Semitic, white supremacist ideology and disseminates its message in public events that demonize Jews, immigrants, and other minorities," the ADL says on its website.

Lynch's acquaintances told The Bee that Lynch was working as an asbestos removal contractor. The doormat in front of his home read, "Come back with a warrant."

Local gang expert Lt. Milo Fitch described Lynch to CBS News as "one of the most well known and influential figures in the white supremacist movement."

'This is a significant event in the white supremacist world – it will send shock waves," he added.
The Associated Press: Skinhead leader killed in shooting at Calif. home, AP, 4 March 2011:
Authorities say a leading white supremacist known for organizing skinhead groups has been fatally shot at his Northern California home.
Skinheads In Sacramento: The death of David Lynch brings bad memories to past victims of white hate groups, Fox KTXL Sacramento, Lonnie Wong, 4 March 2011:
The death of white supremacist organizer David Lynch, founder of the group American Front, was a suprise to victims of hate violence in the Sacramento area.

"I didn't know there was a leader so prominent living in our community," said Sacramento County supervisor Jimmie Yee. Yee's home was firebombed in 1993 by Richard Campos, a teenaged white supremacist who grew up near his neighborhood.

Yee said hate crimes have no place in Sacramento and that Lynch's death was a wake-up call. Lynch was found shot in the head in his Citrus Heights home. He was one of the nation's best known hate-group leaders and was described as charismatic by those who track hate-groups and their leaders.

"It's disturbing," said Sacramento City council member Jay Schenirer who is the president of the B'nai Israel synagogue, one of three in the area that were firebombed in what is known as the "Summer of Hate," in 1999.

Lt. Milo Fitch, a gang unit officer who tracked white hate groups for the Sacramento County Sheriff's Department, said it's not suprising tht neighbors didn't know Lynch's history. Lynch often wore khaki pants and button-up shirts, according to intelligence from hate watch organizations. Clothing and tattoos don't necessarily define an ideology.

"Many of them come from middle class families, not from the lower socio-economic groups you find with other gang members," said Fitch.

Yee says the community should be aware of groups that take a lower profile.

"That type of organization is still very active and they'll do anything to cover up their activities," said Yee.

Schenirer said they have to take a more sophisticated preventative approach to dealing with young people who are recruited by hate-groups. That means education programs for middle and high school students.

"The intervention after it's happened aren't going to work really well. We need to the community to work on the prevention side of it," said Schenirer.
In a few more years these same people will be surprised and disturbed to discover they have any White neighbors, period.
A man killed in a Citrus Heights home has been positively identified as David Lynch, a skinhead leader and founder of branches of the group American Front, KTXL, 4 March 2011:
The shooting investigation remains on-going, and anyone with information should contact the Citrus Heights Police Department's Tip Line at (916) 727-5524 and reference CHPD Case number 1102586.
White supremacist leader killed in Calif, MSNBC, 4 March 2011:
Mark Potok, director of the Intelligence Project at the Southern Poverty Law Center, told msnbc.com that Demar is also a white supremacist who goes by the name Charlie Boot. He is the lead singer of Stormtroop 16, a white-power rock 'n' roll band, Potok said.
[Citrus Heights police Lt. Gary] Hendricks told KXTV police are investigating whether Lynch's death is related to an association with skinhead groups.

"We're following up leads in regards to (Lynch being part of a skinhead organization) based on a rumor that is actually coming from the media, not from us," Hendricks told the TV station. "So we're following up with regards to that as well. That is part of our investigation as well."

Organizations that monitor hate groups described Lynch as an influential white supremacist with a two-decade-plus history of racial activism.

"I would describe him as a former first-tier leader in the '90s. He was very well-known, especially on the racist skinhead scene. He was a bright and charismatic man and also a man sometimes with incredible potential for violence," said Potok of the SPLC.
According to his enemies, David Lynch was a bad person. It is a measure of their influence that within hours of Lynch's murder every major media outlet has quickly broadcast their negative views, not as a paid advertisement or op-ed, but as raw, supposedly objective news. Lynch's own words, and the reactions of his friends and supporters, are either not mentioned or are minimized. While several reports cite and even link to the non-White supremacist ADL and SPLC as authorities, none link Lynch's own American Front.
American Front defines itself in Fighting For the White Worker Since 1984!:
Who We Are

We are a collective of highly motivated racialists of European descent, striving to establish an autonomous homeland for American whites.

We are dedicated to securing, advancing, and defending the sacred blood of our glorious ancestors at all costs.

We will work to promote our values, goals and ideals so that this and future generations of our folk will not be enslaved by the greed of Capitalism, the oppression of Communism, or the disgrace of multiculuralism.

We believe in White unity first and foremost, putting petty and personal differences aside to concentrate on the real issues of our dying race.

We do not pollute our bodies with drugs or excessive drinking, as we attempt to live as man was intended with pure mind, body, and race.

We believe that we must be as self sufficient as possible, first in our own daily lives then in our nation.

We accept many different political stances as long as race is the first component of their platform.

We accept any religion unless it contradicts racial law.

We feel the struggle of our people is not a gender specific issue therefore both men and women are accepted as full members.

We strive to make sure our membership is comprised of quality individuals; solid comrades are the backbone of solid organizations.

We believe in the re-institution of the morality, strength, and honor of our revolutionary forefathers.

We will heed the call in defense of all that is sacred to our family, race, and nation.

We are Greyshirts, and if you are a loyal white racialist, we believe in you!
I had not previously heard of David Lynch. If, like me, you're curious what it is that he believed that so disturbs the ADL and SPLC, then you'll want to read Commonly Asked Questions & Answers Concerning the American Front.
The people who hate David Lynch hate Whites for being White.
Paul Fromm talked about Lynch in his most recent podcast, The Fighting Side of Me: In Memoriam, David Lynch at Voice of Reason.
In RIP Dave Lynch at Occidental Dissent, Andrew Yeoman writes:
For those unfamiliar with Dave he was a lifelong advocate of white people and worked tirelessly to bring justice to our people. Lynch was a driven and highly motivated leader and charismatic man that led a turbulent yet increasingly effective community of men and women in the skinhead scene and beyond.

Raised in San Francisco during the 1980′s, he is survived by two daughters and an unborn child.

Dave was a great man. I knew Dave as a tough, street smart, and passionate man who deeply loved his family, the future of our people, and the legacy of white advocates such as Bob Mathews and surviving members of The Order.

I will miss his guidance and laughter like the loss of my own brother.
David Lynch wanted what I want. I'm eager to learn more about Lynch and the skinhead scene. Comments with information and links to other coverage are requested.