Podcast: Play in new window | Download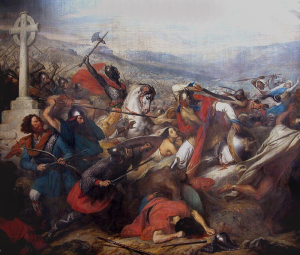 Fjordman's latest essay at Gates of Vienna, When Treason Becomes The Norm: Why The Proposition Nation, Not Islam, Is Our Primary Enemy seems to be a move in the right direction. He's talking about treason now, eviscerating the suicide meme he previously flirted with, though without directly disavowing it.
Fjordman intertwines one sour note with an otherwise sensible conclusion. The sensible portions were highlighted in a comment by Eileen O'Connor:
As Sam Francis reminded us, 'every real nation is a country of a common blood. The only nations that claim to be defined by creeds are — come to think of it — totalitarian states. The Soviet Union, a 20th century descendant of the French Revolution, really was a credal nation, and it survived only because it rested on the same Terror that reigned in France. When the common blood dries up and the civilization founded on it withers, all that's left is the state.'

Unfortunately, this latter line of thinking was discredited by the Nazis. After the Second World War, any talk of genetic differences, of being related by blood or of ties to the soil you live on became associated with Nazism and therefore seen as evil. Out of the many things the Nazis destroyed, this was one of the most damaging, but perhaps least appreciated today. I would be tempted to declare the Nazis the most anti-white movement that ever existed, considering the incalculable damage they did to Europeans and people of European origins.

The main reason why we are threatened by outside forces today is because of the notion that our countries should be glorified shopping centers where anybody should be free to enter as they desire. As long as this situation continues, we will never be able to defeat our enemies.

Our primary enemy is the Proposition Nation, not Islam. The only way to restore sanity to our countries is to restore the concept that a country is the homeland of a nation of closely related people with a shared heritage.
Chechar had already responded with a spot-on comment probing Fjordman's most glaring blind spot:
@ "If we make a list of groups or institutions that are promoting the dispossession and destruction of Europeans it would look something like this, starting from the top down: [six culprits]

Why did you left out an important culprit Fjordman, the Jewish involvement in shaping American immigration policy?

As to immigration in Europe, see this video where a Jewess Barbara Lerner Spectre, who runs a government-funded Jewish study group in Sweden, makes the following remarkable statement:

Quote:

"I think there is a resurgence of anti-Semitism because at this point in time Europe has not yet learned how to be multicultural. And I think we [the Jews] are going to be part of the throes of that transformation, which must take place. Europe is not going to be the monolithic societies they once were in the last century. Jews are going to be at the centre of that. It's a huge transformation for Europe to make. They are now going into a multicultural mode and Jews will be resented because of our leading role."

/end quote
I think this blind spot cannot long endure the trajectory Fjordman is on. Here, for the first time I believe, he crosses a line, stepping away from deracinated counter-jihad and toward ethno-racial nationalism. I thought I might help him, and others in a similar quandry, with the portion of his thinking he finds "unfortunate". I left the following comment:
Fjordman,

I like this essay, especially the portions Eileen O'Connor highlighted in her 6/10/2011 10:06 PM comment. Well done. I hope you continue along these lines.

"Unfortunately, this latter line of thinking was discredited by the Nazis."

But you do not believe this line of thinking is wrong. It is unfortunate, but unavoidable, that you're having trouble reconciling this with your belief that "the nazis" are evil. The two beliefs cannot co-exist for long.

I hope you realize sooner rather than later that whatever "the nazis" did does not negate the truth or righteousness of nationalism – including the idea "that a country is the homeland of a nation of closely related people with a shared heritage". It means Germany for Germans, Norway for Norwegians, Europe for Europeans. When you can finally say this in full throat you will be denounced as a "nazi". But by then you will understand who does this and why.
This morning I returned to the thread and found the following comment from Fjordman:
Chechar and Tanstaafl are hostile, dishonest debaters. In fact, I wouldn't call them debaters at all, but rather spammers. They essentially post the same comment over and over again, and it's not even an interesting or intelligent comment. Tanstaafl: We have nothing in common and I will NEVER join your "team." You should have realized that by now. You have your own blog and there are plenty of others where you can write about this as much as you want to. You have no right to hijack this website where good people invest their time with little or no pay to create important debates.

I will request that GoV deletes Tanstaafl's latest comment about the Nazis. Some people have mental faculties that require us to protect them from themselves. Tanstaafl clearly falls under that category. Mr. T: Your presence undermines the very purpose of this website. You have no business being here. I don't spend countless hours of my free time reading or thinking about interesting subjects to write about for you to come here and destroy everything. Take a hike. And that goes for Chechar, too.

I'm sure Chechar will whine and complain about "censorship," and he's free to do so….somewhere else, for instance at his own, not terribly interesting blog which he keeps hijacking our posts here by linking to. I'm also sure he will say that I have "no right" to censor him and that doing so is "cowardice." He's wrong on both accounts. Yes, I do. I have every right to tell him that his presence is not wanted on my posts, just like a person has the right to decide who he wants to let into his private home. If I try to keep a tidy house and unwanted people intrude and make a mess of it, I have every right to ask them to leave. It's not "cowardice" to ask bullies to leave, and that's what Chechar is: a bully. He's extremely rude and intrudes where he knows perfectly well that he is not wanted, just like the low-IQ Third World thugs he himself despises.

Discrimination is proper and necessary. Our civilization needs more of it in order to survive and prosper. I choose to discriminate against Chechar based on his rudeness, his lack of logic and his general lack of manners. I also choose to discriminate against Tanstaafl based on his lack of a moral compass and above all his lack of intelligence. There should be an IQ limit to posting here, and Tanstaafl does not qualify. He barely has an IQ much higher than that of your average Muhammedan from the Yemen, and he shares much the same obsession with looking for Jews under his bed.

Bye.
My comment was gone.
As with the puffed-up opprobrium Fjordman heaps upon "the nazis" in his essay, I see in the blind bile in this comment the anger of a man terrified with the implications of his own thoughts. We do indeed have something in common. I passed through counter-jihadism on the way to where I am now. This is why I can see so clearly why his current line of thinking, in favor of nationalism, is colliding with a long-ingrained belief in the diabolical nature of "the nazis". The counter-jihad is a movement focused on what's good for "the jews". I believe Fjordman has claimed to be 100% Norwegian. Whether he considers "the jews" White or Norwegian or not, as long as he stands against the Proposition Nation, especially in preference to "a nation of closely related people with a shared heritage", he will find himself opposed and pilloried by "the jews", not "the nazis".
"The jews" are their own people with their own shared heritage. They have demonstrated time and again that they cannot abide the same in anyone else. Their ancient competitors – the Egyptians, Babylonians, Assyrians, Greeks, Romans, Ottomans, and a gaggle of latter day caliphs, kings, queens, czars, and führers – are gone, "the jews" remain.
When Fjordman strikes out at "the nazis" he strikes at an easy target. He telegraphs that he is not an enemy of "the jews". From his previous writings, we know Fjordman thinks highly of "the jews". Whether he holds to this position, it will not fool them. If he is sincere in his move toward a more pro-White/pro-European stand he will realize this eventually. If in the meantime it makes him feel better to imagine himself as a heroic Luke Skywalker rejecting the dirty, rotten, evil, lying Darth Vader, that's fine by me.
Then again it could very well be that Fjordman is insincere – that for whatever reason he still really places the interests of "the jews" above everyone else, but because he has already been criticized for this he is trying to conceal it rather than reconsider it and reorder his priorities. I find this less likely, but time will tell.
– – –
Before I commented on Fjordman's essay, Takuan Seiyo, who I've crossed paths with before, had already made a comment condemning Chechar. Seiyo is of a different, more fundamentally jew-first counter-jihad stripe than Fjordman. He claims to be half-Slav/half-jew, though the latter half dominates both the style and substance of his arguments. As with Lawrence Auster, Seiyo makes the occasional strong statement in favor of native Europeans and critical of "the jews". Then he spends the balance of his efforts making it clear that this is only because he sympathizes with and excuses "the jews". The real problem, in his mind, comes from the evil "anti-semites", "nazis", and other people who criticize "the jews" from a point of view less sympathetic than his own.
With this understanding I made a second comment at GoV:
Takuan Seiyo writes:

"The reason people like Fjordman, the Baron and Dymphna, myself and others cannot write more about the Jewish contribution to our destruction is precisely because of those who do, like the comrade above. Their lying about Hitler, Holocaust denial, hobnobbing with Ustashniks and Neo-nazis, obscurantism about the horrors of the Romanovs' rule that engendered the Bolshevik Revolution (and Jewish participation therein), puts anyone who writes critically about their grand idee-fixe — Der Juden – in a radioactive chamber, and anyone who cares about truth in the camp of untruth.

The antisemites sabotage the task of saving and boosting the Peoples of Europe (and her diaspora) in two more ways. First, by misunderstanding and misrepresenting the Jews' motivation in their dysfunctional behavior, they muddle the issue and make it far more difficult to mount effective countermeasures. To be brief, the most accurate – and most bitingly damaging — statement about the Jewish dysfunction was made not by Duke or MacDonald, but rather by a Jewish comedienne, Julia Gorin, and in direct negation of their and Hitler's spurious theorizing."

I'll believe Seiyo speaks for Fjordman, the Baron and Dymphna when they say he does.

"The antisemites" are Seiyo's grand idee-fixe, his "Der Juden". If they would just be silent, even here on the margins of the internet, then he could finally save us all.

For those who would like to hear what actual White nationalists have to say for themselves, I recommend the following podcasts:

The Nationalist Report: Interview with David Duke, Oct 2010.

Kevin MacDonald's speech at the first National Conference of the American Third Position Party, June 2010.

What these men say should appeal to any White person Fjordman's essay appeals to.
This comment has also been removed. Just below where it appeared, before the response made by Fjordman quoted above, was this comment from Seiyo:
It's either you or me. This blog will have to choose. I feel soiled by being on the same page with you. Unless you are bounced from here, I take a hike. Your response, if any, will get no response from me.
Probably without intending it, Seiyo echoes and confirms the point I was trying to get across to Fjordman. You can pick European nationalism or "the jews". Those who choose their own kind, their nation, over "the jews" will be forced to face the fact, sooner or later, that their enemies, those who demonize and attack them most vehemently, are those who put "the jews" first.
– – –
Hesperado is another commenter on the Fjordman essay that I've previously crossed paths with. The comments in that post touch on Seiyo, Fjordman, and the counter-jihad as well.
Chechar has also discussed Fjordman at his blog.