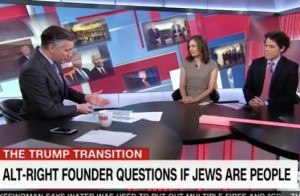 The jews have been screeching about Richard Spencer's NPI conference in Washington DC this past weekend. Alot of it is just the usual jew normal wow-just-wowing that a handful of Whites still have the nerve to openly meet and speak positively about White identity and interests. The loudest wailing has to do with a bit of exuberant hailing at the end of Spencer's closing speech, but there was a more telling response to a rhetorical question he asked at the beginning:
This was the year when random shitlords on Twitter, anonymous podcast hosts, and dissidents working deep within the beltway right proved that they objectively understood politics better than the "Republican strategists" and "political consultants" snarking at us every night on MSNBC. It's not just that they are leftists and cucks. It's not just the many are genuinely stupid. Indeed, one wonders if these people are people at all – or instead, soulless golem, animated by some dark power to repeat whatever talking point John Oliver stated the night before.
This twit, from one screechy jew organization to another, captures the gist of the reaction that immediately echoed throughout the Lügenpresse: "'Alt-right' Trump supporters are unsure if Jews are people. @jfederations, are you sure you want to support this admin? #JewishResistance".
CNN pushed a similar line, which produced a swift jewlash and apoplectic apology. Of course, the apology was for offending jew sensibilities, not for distorting what Spencer said.
Spencer was speaking in terms of partisan political opposition, at the edge of the jew normal box – his alt-right and Trump versus the left and their cuck-right. His use of the term golem alludes to jews as the animators of the entrenched opposition, implying that the non-jews, the kikeservatives of whatever party affiliation, are behaving inhumanly, like robots.
It is telling that jews immediately reduced what Spencer said to being entirely about jews – as if nobody else matters, as if nobody but jews is human. Much the same occurred last month when Trump started speaking stridently against the elite globalist bankers and media. Jews flipped out exactly because they perceived this as a coded threat to themselves, not at all out of concern for anybody else, elite or otherwise.
CNN's crime was to highlight Spencer's reference to the jews' golem tale, in which the jews are saved from the inhuman goyim of medieval Europe, while deploring a modern day meeting of inhuman White "racists" and "anti-semites". The jews are screeching so loudly because they feel exposed. By crying out they seek to ensure that everyone understands the jews are not just people, part of "us", but are that extra special part of "us" who defines who "them" are.
When some member of the jewed elite equates Trump to Hitler what they're implying is that Trump (and his supporters) must be attacked, destroyed, and even killed. Never Trump. Never again. By any means necessary.
The toxic anti-White jew Tim Wise put it this way: "Nazis must be crushed. No co-existence…crushed. If the "alt-right" wants to play Nazi, we need to play the Allies, circa 1944 and 45″.
Another toxic jew, jewsmedia editor Michael Hirsh, screeched his thirst for goy blood more explicitly: "Stop whining about Richard B. Spencer, Nazi, and exercise your rights as decent Americans. Here are his two addresses. …"
Are the jews people? In fact their definitive concern is for themselves, for their own peoplehood. As a parasitic people they not only organize around this exclusive sense of "us" as jews, but actively seek to co-opt, control, and ultimately destroy any similar sense among the goyim host "them" they feed upon.
One thing is certain. The jews aren't White people. They are empirically collectively anti-White, the enemies of Whites. Indeed, when jews attack Whites while screeching about "anti-semitism" it is because they are drawing a clear distinction and expressing a truly racial animus.