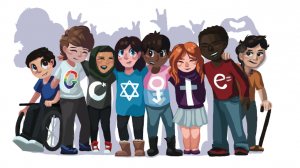 Some Google software engineer wrote an internal memo complaining about the echo chamber at Google, the same jewy anti-White environment which prevails at corporations generally, as well as academia, media, and government.
The author treads cautiously, focusing mainly on sex, barely touches race, and says nothing directly about jews. But the thrust of their argument and choice of words indicates a deeper understanding. The tone smacks of the race-realist HBD-o-sphere. This is someone who is disturbed by the impact jewing is having on their life, and though they have the requisite insight and capacity to figure it out, they instead try to imagine it's about something else.
Though they can see the bias they're complaining about is sexual and racial, against White males, they still lamely try to misunderstand the conflict as an abstract "left" versus "right". They're upset that the "PC-authoritarians" are replacing "villains" like themselves with non-White "victims", because "diversity" and "oppression". They refuse to accept what their own description of the situation means, and try instead to rationalize some way out.
The engineer is likely a White man, or someone who might be mistaken for one, but certainly doesn't want to be mistaken as arguing in favor of Whites. Like any good "conservative" he's only trying to signal his enlightened liberal attitude, his willingness to play along with the jewed elite's language and agenda, if only his tormentors would let him:
I hope it's clear that I'm not saying that diversity is bad, that Google or society is 100% fair, that we shouldn't try to correct for existing biases, or that minorities have the same experience of those in the majority. My larger point is that we have an intolerance for ideas and evidence that don't fit a certain ideology. I'm also not saying that we should restrict people to certain gender roles; I'm advocating for quite the opposite: treat people as individuals, not as just another member of their group (tribalism).
He drops a hint about the nature of this tribalism in a footnote, implying the ideology of Google's senior leadership is akin to the anti-White jewing of the Frankfurt school:
As it became clear that the working class of the liberal democracies wasn't going to overthrow their "capitalist oppressors," the Marxist intellectuals transitioned from class warfare to gender and race politics. The core oppressor-oppressed dynamics remained, but now the oppressor is the "white, straight, cis-gendered patriarchy."
Perhaps he believes he can dance around the crux of the issue, but these two sentences and the reference to tribalism overshadow everything else he said. Any jew who can read will understand what he's complaining about, even if he doesn't. And by downplaying race he only made it easier for Google to ignore it.
Of course, when the "diversity" commissar was hired and her agenda was explained, race was front and center. The Google leadership says Google is too White. Just like Hollywood, or Wall Street, or social science departments. It's a big big problem, and there's no mystery why. A ridiculous number of the "whites" are actually jews. They're all on board with the anti-White agenda. They'd all screech if anyone tried to count the jews as jews.
To understand what's happening here you need only understand that the racial distinction between Whites and jews is what matters most. That's the big taboo. Nothing is more "politically correct" than pretending some bit of jewing isn't jewing. Nothing is more semitically correct than white-washing that jewing by actively shifting the blame for it onto Whites.