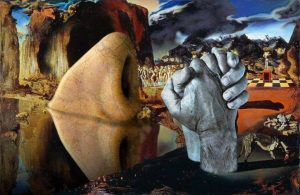 Department of State:
"Anti-Zionism is anti-Semitism. The Trump Administration opposes it unequivocally and we will fight it relentlessly." — @SecPompeo #AIPAC2019… https://video.twimg.com/amplify_video/1110301059606433793/vid/1280×720/qWliTD_aL20vED9K.mp4
The jews, their jews-only state, and their vassal jews-first states – these are distinctions without a difference.
Pelosi on Dual Loyalty Accusations: 'To Be Anti-Semitic is to Be Anti-American':
"This month, the full House came together to condemn the anti-Semitic myth of dual loyalty and all forms of bigotry with a resolution that 'rejects the perpetuation of anti-Semitic stereotypes in the United States and around the world including the pernicious myth of dual loyalty and foreign allegiance especially in the context of support for the United States-Israel alliance.'"

"I simply declare to be anti-Semitic is to be anti-American. It has no place in our country," Pelosi continued.

Pelosi is not the first Democratic leader to address the dual loyalty stereotype at AIPAC. On Sunday, House Majority Leader Steny Hoyer (D., Md.) slammed the suggestion that supporters of Israel have dual loyalty.

"When someone accuses American supporters of Israel of dual loyalty, I say: Accuse me," Hoyer said.

"I am part of a large, bipartisan coalition in Congress supporting Israel, an overwhelming majority in the Congress of the United States," Hoyer added.
The annual AIPAC summit is a week-long proclamation of state-backed pro-jew bigotry, an explicit and specific celebration of jewing, showcasing jew dominance. There is nothing comparable. The fact that so many of the speakers are not jews, yet so abjectly voice their worship of and subservience to jews, is a measure of jew power and its unnatural influence.
This year's jewfest is extra special, coming directly on the heels of the collapse of the jewsmedia-promoted narrative designed to shift attention and blame elsewhere. After three years of hyperbolic hyperventilating about "Russian influence" and "white supremacism", figureheads of both major political parties provide the explanation why – by announcing, for their true masters and the whole world to hear, that their first and foremost concern is for the well-being of jews and the jews-only state.
On a daily basis members of the anti-White/pro-jew regime accuse each other of not being anti-White or pro-jew enough. This isn't clown world, it's kike world.