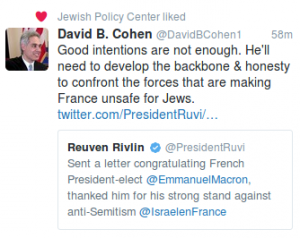 The anti-French sentiments of jews have been most frankly expressed in the jewsmedia aimed at jews.
Big in Israel: Macron captures 94 percent of French-Israeli vote – Israel News – Haaretz.com:
Many French-Israelis said they voted because they feared a Le Pen victory. Le Pen's threat to strip French-Israelis of their dual citizenship stoked anxiety, and many feared that a Le Pen victory could spell trouble for their Jewish friends and relatives left behind in France.
French-Israelis vote overwhelmingly for Macron | The Times of Israel
French Jews 'relieved' Macron won but worried over Le Pen's electoral gains | The Times of Israel
Saying 'anti-Semitism defeated,' Israelis fete Macron victory | The Times of Israel:
"I look forward to working with President Macron and together to take on the shared challenges of our two democracies," Prime Minister Benjamin Netanyahu said in a statement which included his congratulations.

"One of the greatest threats facing the world today is extremist Islamic terror, which carries out attacks in Paris, Jerusalem and many other cities around the world. Israel and France have a long-standing alliance and I am sure that we will continue to deepen our connections," said Netanyahu.
Likud MK Oren Hazan, a brash backbencher who had publicly supported Le Pen and alleged that others in the ruling party did as well, was silent in the immediate aftermath of the results Sunday night. Hours before the results were announced, he wrote on Facebook that victory for Macron would be a disaster.

"If France becomes the first European-Islamic power, then it will be impossible to undo and Jews… will not be able to walk around there at all,"

However, most in Israel had opposed Le Pen, who finished with only 3 percent or so of the vote among expats in Israel in the first round of voting.
Similar sentiments have been expressed in more cryptic form in the jewsmedia aimed at non-jews.
(((Anti-Trump))) jew Yascha Mounk declared victory in France, but reminded his readers the broader war on Whites is not over yet. Four reasons not to be cheered by Emmanuel Macron's defeat of Marine Le Pen:
Finally, and most important, a lot of the commentary on the rise of populism is treating the success of candidates such as Trump as though they were the result of a mysterious virus that might subside just as quickly as it spread. But to make this argument is to close our eyes to the fact that the current challenge to the political system has been steadily growing over time—which suggests that it has deep, structural causes.

There continues to be real debate as to just what these causes are. But there are some obvious candidates: Over the past decades, the living standards for most ordinary citizens have stagnated in both North America and Western Europe. Countries on both sides of the Atlantic have had to deal with high levels of immigration while overcoming deeply entrenched racial hierarchies that privileged whites over everybody else. At the same time, they have seen a growing chasm between affluent urban centers and a stagnant periphery, which feels increasingly neglected. To halt the rise of populism, moderate politicians will have to find answers to these immense challenges.
(((Anti-anti-Trump))) jew Marc Thiessen also declared victory in France, and jewsplained why this is good news for Trump-supporting jews. Le Pen's defeat is good news for Trump:
The media are framing the defeat of Marine Le Pen in the French presidential election as a defeat for President Trump and his brand of populist nationalism.
Then there is the cloud of anti-Semitism that hangs over Le Pen's National Front. At the United States Holocaust Memorial Museum National Days of Remembrance ceremony, Trump delivered a strong denunciation of Holocaust denial, declaring that "there are even those filled with such hate, total hate, that they want to erase the Holocaust from history. Those who deny the Holocaust are an accomplice to this horrible evil."

One of those "accomplices" is Le Pen's father, who as leader of the National Front dismissed the gas chambers of the Holocaust as a "detail" of history and declared that the Nazi occupation of France was "not particularly inhuman." Marine Le Pen called another anti-Semitic remark of his a mere "political gaffe" and distanced the party from her radioactive father in a campaign of what she called "dédiabolisation" (or "un-demonizing") to bring it into the political mainstream.

But recent reminders of the National Front's anti-Semitism almost certainly depressed her vote. After winning a spot in the presidential runoff in April, Le Pen handed the reins of the party to Jean-François Jalkh, her handpicked successor, who was then forced to step down days later when it emerged that he had praised a Holocaust denier and declared it was "impossible" for the Nazis to have used Zyklon B gas to kill Jews. Le Pen defended him and called the charges a "defamation."

And there was also Le Pen's own "gaffe" when she declared that "I don't think that France is responsible for the Vél d'Hiv" — the infamous 1942 roundup by French police of 13,000 Paris Jews who were interned in a stadium near the Eiffel Tower before being deported to concentration camps. The arrests were carried out not by Nazi occupiers, but by the French themselves. For Marine Le Pen to deny French complicity in this "detail" of the Holocaust suggests that the apple did not fall far from the tree.

There is a big difference between American-style populism and the virulent strain that exists on the European continent. So it is a mistake to read the French election as a rejection of Trump or his agenda. French voters did not cast their ballots for open borders and global supranationalism — rather, they rejected the National Front with all its racist baggage.
Wherever jews live and however they express themselves the vast majority don't feel any sympathy for Whites, French or otherwise.