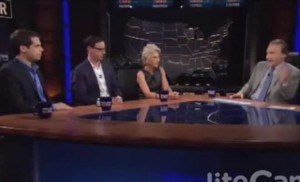 Bill Maher, Jane Harman, Jamie Weinstein and Charles Krauthammer agree. Somebody has to be at fault, and it can't possibly be the Israelis.
"Liberal" Maher faults "the rest of the world" and even the "Palestinian civilians who are dying". He describes the Israelis as "the victim of the soft bigotry of high expectations". Their enemies, in contrast, he expects to just get over being expelled.
"Conservative" Krauthammer understands how these sneaky Palestinians think, playing up their weakness and exaggerating their suffering, counting on the "near-total historical ignorance and reflexive sympathy" of others. Krauthammer, after all, is one of the foremost experts in such matters.
"Liberal" Harman is a dimmer Maher. She agrees with Krauthammer. She advocates secure borders for Israelis, because she wishes them to have peace. She advocates exactly the opposite for Americans, no doubt because she doesn't wish for us to have peace.
"Conservative" Weinstein is a dimmer Krauthammer. He too knows how these Palestinians think. All he thinks anyone needs to know is that they're anti-jew. Never mind why.