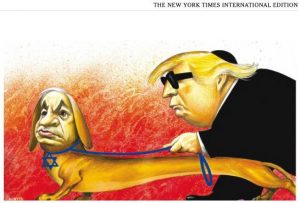 There's so much jewing in the news I can't keep up with it.
Biden announced his ambition to be the new kikeservative-in-chief. This triggered another six gorillion jewsmedia articles screeching as if the current kikeservative-in-chief is anti-jew.
After three years of depicting Trump as a Russian puppet, the jew paper of record slipped and ran this cartoon depicting something closer to the unfunny reality. This made a bunch of yids flip their lids, screeching as if The Jew York Times is anti-jew.
John Earnest shot some jews, citing toxic anti-White jewing as his motivation. Jews responded by screeching as if jewmerica and its totally jewed regime is anti-jew. And of course, Trump's boss demanded an immediate increase in goyim support for toxic jewing.
It may have been some combination of these screechings, or nothing at all, which made Bari Weiss recite the standard jew narrative on anti-jewing:
Anti-Semitism is a virus. When the immune system of a society is healthy, anti-Semitism is kept in check. When it is weakened—as it is right now—the virus thrives, as it has so many times before in some of the most seemingly civilized cultures on the planet.