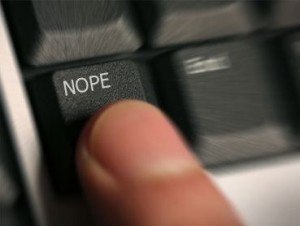 Bill Rhyes, who I spoke with last month, spoke with Carolyn Yeager last week. I've wasted too much of my life on Carolyn Yeager and don't wish to waste any more – but she directed a disingenuous "offer" to me, accompanied by a veiled threat. I think it calls for a clear response.
Her "offer" starts at 1:27:00. She begins by reading a prepared statement, her latest version of what she says happened between us and why. As far as I can tell she hasn't posted the text anywhere online, and I'm not going to bother transcribing it all. It's mostly the same combination of sobstory, gossip, and speculation that she's been serving up since the day I ended our partnership. Her whole Danny-boy/Tanny-boy story, for example, is real only in her own mind. But it is telling that she prefers to imagine such inter-personal intrigue, fictional soap opera nonsense really, rather than accept the reasons I've actually provided.
I laid out those reasons in My Mistake. Most of what I had to say to or about her is in the comments of The End. In response Carolyn quickly shut down the original tWn server. A month or so later I got a new domain, set up a new server, restored the content from a backup copy, and added Why this Archive to explain the changes. Over time I also attached several updates to that one post, mostly to note Carolyn's ongoing hostility and demands. (I'll be adding a new update there linking to this post.)
Now, speaking with Bill Rhyes, she makes a fresh demand that she couchs instead as a diplomatic "offer" (skip to 1:36:00):
I wouldn't mind having my shows, text and all, on his archive site, if he didn't have all the stuff he added on there after saying he was gonna freeze the site as it was.
I'm not even slightly tempted to go along with this.
First, I know she is not speaking in good faith. She shut down the original server when the only thing on it was My Mistake and The End, without any additional comments. She shut down the whole site to suppress just that. She's now all the more bitter about Why this Archive because it spells out this and more, liberally quoting and linking her own statements, detailing many telling things she said and did.
Second, I long ago addressed her phoney "he's stealing my podcasts" claim here and here. I also long ago provided a definitive answer to her constant demands and claims of ownership. That answer has not changed.
Third, I know Carolyn wants ALL these critical posts of mine memory-holed because she thinks they make her look bad. She deleted everything when she had the chance. She really doesn't care about the archive as a whole or even the redacted text and the podcast links that I'm supposedly stealing. Everything of hers has always been hosted in full on her own site, which I have never had anything to do with and have never interfered with in any way.
Fourth, all her bluster about ownership and stealing flies in the face of the fact that she paid all the tWn bills with other people's money, handled and ultimately claimed all that donated money for herself personally, and never provided any accounting for any of it.
Last but certainly not least, her "offer" truly is just another self-serving demand, offered only out of concern for her own ego/reputation and followed directly by a clumsily-worded personal threat:
I think the whole thing is unseemly. What he's done. So if he does not do what I ask, umm, I'm prepared to copyright all my programs and take legal action against him for stealing them from my website. And additionally I will put up a page using my domain name of thewhitenetwork.com – I do own that domain name, I always did – and tell the true story of Mr. Tanstaafl and the White network in a better and more complete way than I've done before. So I'm not trying to make threats here but I wanted to make this offer for a way to kind of bring this White network thing to a better ending than what it has come to.
That's just it. She wants more. I don't. I ended my relationship with Carolyn Yeager exactly because I no longer wanted to help her, to argue with her, or have anything whatsoever to do with her. I never took anything from her, I don't need anything from her, and frankly I'm fine with the archive site as is. I'm not going to change anything to suit her, and I certainly will not delete the very documents which best capture what actually happened as it happened. She can blubber self-righteously about her imagined victimhood all she wants. The online record tells a different story.
Except for the part about suing me, her threat reminds me of Rodney Martin's. My response to her is the same I made to him. I doubt there's anything more to her "true story" that she hasn't already gone on and on about. What she's really implying is her intent to dox me. Some bullshit copyright suit is just a pretext for that. What she'll discover is that everything I have ever said about myself is true. What I think is most important about Carolyn Yeager I discovered and stated last year. I should never have agreed to work with such an egotistic and vindictive woman. As I've said, my mistake.