Podcast: Play in new window | Download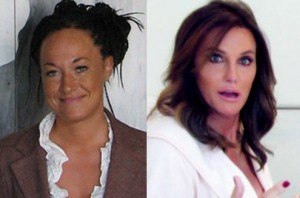 We're going to compare and contrast two recent controversies, one involving Bruce Jenner, the other involving Rachel Dolezal. And of course we'll also discuss what this all has to do with the jews.
The two controversies revolve around the same core issue – the poisonous concept of fluidity, an extension of identity politics, which is itself an extension of the constantly metastasizing jewish intellectual movement known as cultural marxism or multiculturalism. Fluidity is the idea that individuals have a right to choose who they are, to be what they want to be, that social considerations or even physical biological realities are not or should not be any real constraint. It's the idea that what what you think and believe and imagine you are matters more than anything else.
This idea of fluidity is part of a larger social context in which integration, mixing, blurring, "diversity" – anything degenerate, really – is put forth by cultural and political elites as right and good, and thus something that can and has been compelled by force. Meanwhile anything separate, homogeneous, with clear borders – anything necessary for the continuity and survival of a people, really – is portrayed as wrong and even evil, and thus can and has been targeted for destruction.
Such an abstract and objective description is really just the universalist sugarcoating over a deeper fraud, a misrepresentation or misinterpretation of the racial animus that's behind multiculturalism, driving it all. The driving force and it's goals are not at all universalist but utterly particularist. It is really all about tearing down and destroying anything and everything European or White. It's about marching through the institutions created and formerly dominated by Whites, now dominated by jews, and using those positions of authority to denounce Whites, to make the world safe for the jews first and foremost.
Clouding the issue is the fact that the jewish nature of this aggression has all along been largely disguised, cloaked by the earlier promotion and preeminence of "liberalism" – particularly secularism, individualism, and pluralism. The aggression has advanced most recently under the pretense of promoting "freedom" and "tolerance" and "equality" for everyone, even as the efforts have become ever more especially and obviously to secure special preferences and privileges for various "minorities", and accompanied by ever shriller condemnations of "White supremacy", "White privilege", and Whites generally.
Identity politics is only superficially about everyone having and celebrating their unique identities equally. Behind the facade it's a thoroughly jewish construct. It's about jews with a strong jewish identity and racial animus for Whites spinning a historic narrative of victimhood and oppression. Jews and their holocaust narrative are at the absolute center, serving as the template, defining and driving a larger coalition of narrowly self-interested deviants, degenerates, feminists, and non-White "people of color", inciting and uniting and directing them against Whites, and especially White heterosexual men.
So it's against this cultural backdrop that we have in the first instance this idea of fluid gender in the spotlight, focused at the moment on Bruce Jenner, a famous White man, Olympic gold medal winner, married three times, father of four children. Jenner declared that he had long wished he was a woman and had finally resolved that he would undergo surgery to make himself look more like one physically. He then appeared on the cover of Vanity Fair magazine, dressed in a woman's swimsuit, sporting breast implants, long hair, and makeup. The caption read, "Call me Caitlyn", the new name Jenner has selected for himself. The jewsmedia celebrated.
Unfortunately, most of us have heard of this kind of sexual deviance before – transexuals, trannies, the T in LGBT – but Jenner's fame and the jewsmedia's hoopla took the already toxic contemporary popular culture to a whole new level of bizarre. What's new about transgenderism is that it goes beyond tolerating a mentally deranged individual's desire to be something they're not, and becomes a metric by which everyone else's value is measured by their willingness to say they approve of behavior that should repulse anyone healthy and normal. Abnormal and unhealthy are the new normal and healthy.
Late last week the other controversy sprang up, this one around a relatively unknown local leader of a black political organization named Rachel Dolezal. The initial report concerned her claim that she was the victim of "hate", her 8th or 9th such complaint in as many years. This time around she claimed she had received a letter whose contents she found offensive. Pictures of nooses or whatever. This time it was also almost certainly a hoax, since the letter was supposedly received at a post office box that only herself and her staff had access to, and yet it's stamp had not been cancelled, signifying that it had not actually been handled by anyone at the post office.
The jewsmedia regularly announces "hate" crimes, and almost as regularly but more quietly and ambiguously announce the corresponding hoaxes, when the supposed victim actually turns out to be the perpetrator. What made the Dolezal story stand out was the revelation that she had all along been hoaxing her blackness, that she was in fact a White woman who had simply frizzed her hair, darkened her skin, and passed herself off as black.
In Dolezal's case the spotlight is shining on transrace, the fluidity of race. Coming so soon after the celebratory circus the jewsmedia had made about Jenner, the glaring similarity of their bizarre pretense is easy to see, and easy to mock. A glaring contrast is also clear. The jewsmedia which hailed Caitlyn Jenner has been either ambivalent or disapproving about Dolezal. The most common theme is an irrational insistence that the two situations are completely different.
The size, swiftness, and character of the public response has been telling in it's own way. However relentless and pervasive the jewish promotion of the lie that neither race nor gender are rooted in biology, it is a lie, and many people aren't buying it. The general consensus, in social media for sure, but even in the jewsmedia, is that Dolezal is a fraud, that she can't possibly be black because she has no black ancestors. In other words, when it comes to racial identity, genes are the decisive factor. What Dolezal's case demonstrates is that you can feel black, marry black, go to a black school, dedicate your life to serving blacks, you can look and act and you might even be mistaken as black, but none of that can actually make you black. For that you have to have black ancestors.
The case is similar for Jenner, though the jewsmedia treats it as though it is different. Despite Jenner's surgery he'll never really be a woman. The jewsmedia hype about him will in fact make it less likely he will even be able to even sincerely fool anyone. Just like Dolezal now that she's been outed.
There are a few articles about these controversies that I'd like to cite, read excerpts from, and comment on, tying into and adding to what I've already said. However tempting it may be to simply disregard what's happening and chalk it all up to insanity, the overarching point I'd like to make is that there is some sense that can be made of this if we read between the lines.
Paul McHugh, the former Psychiatrist in Chief of Johns Hopkins Hospital, wrote an article about Jenner titled, Transgenderism: A Pathogenic Meme, published on the web site Public Discourse. McHugh noted that what is today called transgenderism used to be a rare phenomenon but has dramatically increased in recent years. He describes this pathological behavior as "mental unrest" and attributes it's spread to the spread of a pathogenic meme:
The champions of this meme, encouraged by their alliance with the broader LGBT movement, claim that whether you are a man or a woman, a boy or a girl, is more of a disposition or feeling about yourself than a fact of nature. And, much like any other feeling, it can change at any time, and for all sorts of reasons.

. . .

But the meme—that your sex is a feeling, not a biological fact, and can change at any time—marches on through our society. In a way, it's reminiscent of the Hans Christian Andersen tale, The Emperor's New Clothes. In that tale, the Emperor, believing that he wore an outfit of special beauty imperceptible to the rude or uncultured, paraded naked through his town to the huzzahs of courtiers and citizens anxious about their reputations. Many onlookers to the contemporary transgender parade, knowing that a disfavored opinion is worse than bad taste today, similarly fear to identify it as a misapprehension.

I am ever trying to be the boy among the bystanders who points to what's real. I do so not only because truth matters, but also because overlooked amid the hoopla—enhanced now by Bruce Jenner's celebrity and Annie Leibovitz's photography—stand many victims.

. . .

Ten to fifteen years after surgical reassignment, the suicide rate of those who had undergone sex-reassignment surgery rose to twenty times that of comparable peers.
Emperor's clothes indeed, but even McHugh's truth-telling is couched in semitically correct compassion for the most botched. The suicides are only the tip of the iceberg. The bulk of the harm is being done to the many more otherwise healthy men and women whose minds are more subtly poisoned by this pathologenic transgender meme, who as a consequence will never form a proper family, and thus never reproduce.
McHugh does at least try to identify the source and driving force. He notes that:
both the state and federal governments are actively seeking to block any treatments that can be construed as challenging the assumptions and choices of transgendered youngsters
Furthermore:
The larger issue is the meme itself. The idea that one's sex is fluid and a matter open to choice runs unquestioned through our culture and is reflected everywhere in the media, the theater, the classroom, and in many medical clinics. It has taken on cult-like features: its own special lingo, internet chat rooms providing slick answers to new recruits, and clubs for easy access to dresses and styles supporting the sex change. It is doing much damage to families, adolescents, and children and should be confronted as an opinion without biological foundation wherever it emerges.

But gird your loins if you would confront this matter. Hell hath no fury like a vested interest masquerading as a moral principle.
McHugh's diagnosis of transgenderism dovetails very well with Kevin MacDonald's description of the jewish culture of critique. A comparable diagnosis surely applies to transracialism. At the center of the moral fury in both cases is the jewish holocaust narrative.
Another psychologist commented was quoted in an article at People.com titled, Psych Expert: Rachel Dolezal Not Like Caitlyn Jenner. The author claims that "most people" think Jenner and Dolezal have "very little in common" but:
Some commenters on the internet likened Dolezal to someone who is "transracial"
To explain how "very different" transracial is from transgender she quotes a "racial identity expert", who says:
"I would say being LGBTQ, there is strong evidence that there is a biological [reason behind it]," . . . "Caitlyn Jenner is not identifying with being a woman because of the upbringing and cultural conditioning."
This is at odds with what McHugh described as the pathogenic meme behind transgenderism, "the idea that sex is a feeling, not a biological fact". I think McHugh's view is far more credible for reasons I'll describe in a bit.
Concerning the problematic internet comments connecting transgender to transracial:
"I think [the comparison] is all an attempt to not really see the issue. The issue is deception, honesty and pretense. You have to get to the bottom of that."
The "expert" is referring here to the jewsmedia talking point, popping up in many places now, that the big difference is that Dolezal was a fraud, dishonest. The reality is that Jenner, if he's telling the truth now, has admitted that he has been lying to his friends and family for a much longer time.
The reality is that the idea that gender is not essentially biological is just as false as the idea that race is not essentially biological. Both ideas are a very deliberate deception. As McHugh puts it, anyone who confronts the deception faces fury.
The issue here is honesty, says the "racial identity expert". The name of this expert, according to the article, is Derald Wing Sue. The article fails to identify Sue as a professional non-White anti-White. As his page at Wikipedia describes him:
Sue was born in Portland, Oregon to a Chinese American family. He lived in a predominantly white neighborhood, with his parents, four brothers, and one sister[3] where was reportedly bullied and teased on a regular basis, due to his race[4] which later influenced his studies in cross cultural counseling.[5] Two individuals who influenced Sue's path of study were Malcolm X and Martin Luther King, Jr.[3]

. . .

first president of the Asian American Psychological Association

. . .

Sue's ethnic minority status was his biggest influence in pushing for multiculturalism in psychology.
What's more, Sue teaches this pathogenic meme known as "White privilege". It's the explicit premise of a presentation of his on the internet titled, What Does It Mean to Be White. It describes how he did some "research" that sounds like a stripped down version of the Whiteness Project I wrote about in November of 2014. In academia the word Whiteness is a deception. What it really describes is anti-Whiteness.
When this chinaman asked Whites what Whiteness means to them they mostly claimed they didn't know, didn't care. They were visibly disturbed and agitated by the question. He also asked non-Whites, and they revealed their sympatico with the "White privilege" meme Sue teaches – they see Whites as oblivious of their "privilege", and they think being White means always being right, never having to explain yourself or apologize.
The fact that a racial alien who has not only demonstrated his anti-White animus but is actually paid to do so is called upon by the jewsmedia to comment on the behavior of White people in any way is a good sign that Whites do not have any tangible political power, never mind privilege.
The NAACP Statement on Rachel Dolezal came shortly after she was outed as White:
One's racial identity is not a qualifying criteria or disqualifying standard for NAACP leadership. . . . the NAACP remains committed to securing political, educational, and economic justice for all people, and we encourage Americans of all stripes to become members and serve as leaders in our organization.
More deception. This is a good example of a particularist organization trying to cloak itself with universalist-sounding rhetoric. What the National Association for the Advancement of Colored People is claiming is that it doesn't discriminate against anyone who is willing to help them advance black interests.
On Monday Dolezal announced her resignation. She made no apologies. Instead she reiterated her commitment to "human rights" and advancing black interests.
Dave Chappelle a black who has made a career out of joking about race was serious about Dolezal:
"The world's become ridiculous," he told the awestruck grads at George Washington University's Lisner auditorium. "There's a white lady posing as a black lady. There is not one thing that woman accomplished that she couldn't have done as a white woman. There's no reason!
I think this reflects the poisonous effect that "White privilege" propaganda has even on blacks. They see even deranged Whites like Dolezal as golden, simply because she's White. The false assumption is that Whites have even one university which teaches a positive view of our race, or even one organization that can provide us a with a stable career working for the advancement of our race. The truth is that Dolezal's anti-White career was, materially speaking at least, far easier to pursue and more lucrative than any pro-White career. The race-based "storm" she says she's experienced for a few days, and couldn't take, is a taste of what she would have faced on a regular basis as a White woman openly trying to advocate for the advancement of her own race out of an office in Spokane.
The New York Times, the belly of the jewsmedia beast, ran an article titled Black or White? Woman's Story Stirs Up a Furor:
Faking a racial history, in either direction, raises difficult questions about what race is and why it matters, and about the assumptions people make.

Jim Crow laws often imposed a "one-drop rule" so that people with even a sliver of black ancestry, no matter how white they appeared, were legally considered black. It is only because of that history that Ms. Dolezal could be accepted as black, said Martha A. Sandweiss, a history professor of Princeton University.

"There was very little to be gained by identifying yourself as black, so if you did, no one questioned it," said Ms. Sandweiss, author of "Passing Strange," an acclaimed book about a man who did just that in the late 19th century. "It shows how absurd racial classifications often are."
What the Dolezal incident demonstrates is that there is something to gain, and there's a new one-drop rule. No matter how black you appear, you need at least a sliver of black ancestry. So far as I know the current anti-White regime has squelched or avoided any legal challenge of it. Dolezal sued Howard University for discrimination against her, as a White woman. She lost.
Martha Sandweiss is another one of these deceptive "experts" on race. In fact, it appears she's transracial, like Dolezal but different in an important way. From what I can tell she's actually a jewess who's posing as "white". And like the chinaman "expert", her expertise, her profession, is being critical of Whites.
There was an article about Sandweiss in the Princeton Alumni Weekly in 2009, with a title based on her jewsmedia-acclaimed book, Passing Strange: A Gilded Age Tale of Love and Deception Across the Color Line. American Renaissance reprinted it in 2009 under the title A Strange Double Life. The jewess' double life as "white" went unmentioned.
If this story reminds readers of The Human Stain, Philip Roth's novel about a half-black, half-white man passing as white and Jewish, you're not alone. Sandweiss thought of it frequently during the four-and-a-half years she spent writing Passing Strange, especially with the number of times she had to fill in historical blanks.

"That was absolutely an inspiration for this book. I admire that book so much, how Roth gets inside of his character's heads and imagines their motivations. Certainly many times working on this book I wished I was a novelist so I could narrate with a kind of a magnificent omniscience what's really going on here.

"But I'm not a novelist, and I'm certainly not a brilliant novelist like Philip Roth. I'm a historian who lives and dies by her footnotes. This is a history book."
(Uptown Girls is Sandweiss' 2013 NYT review of Miss Anne in Harlem by Carla Kaplan. More of the same – concerning the "fiction of race", the "absurdity of the one-drop rule", and effusive praise for a tribemate spreading similar poisonous memes.)
Here's why the jewsmedia attitude toward the transracial idea is generally negative even while their attitude toward transgender is positive. The jews deliberately promote fluidity of both race and gender, but the fluidity of race is of more critical importance to their parasitic lifestyle. Promoting a certain one-way belief in the fluidity of race helps enable jewish infiltration and manipulation of their hosts. The promotion of gender fluidity comes later, as part of the exploitation and parasitic castration of their hosts. Naturally jews are interested in racial identity and passing, thus they set themselves up as authorities on these subjects. They think deeply about these things, but they don't want their hosts thinking too deeply about it.
Last week Andrew Joyce published a good article following up and expanding on a point I took issue with in Gaslighting. In Jews, Communists and Genocidal Hate in "Whiteness Studies" Joyce examines not just Noel Ignatiev but the jewy clique around him. He doesn't directly address gender or race fluidity, but he does at least identify the jewish source and driving force behind these poisonous anti-White memes.
The open pursuance of 'Whiteness Studies' must be perceived as nothing less than an act of extreme, even violent, aggression against the White race.
Joyce gets less coherent toward the end when he tries to tie it in with his previous description of "White pathology" and "suicide":
One major factor facilitating this ethnically suicidal behavior is the ongoing Jewish domination of academia and the constant mutation of what may loosely be termed 'Frankfurt School' ideologies into superficially novel intellectual movements. There is really nothing novel at all about 'Whiteness studies.' It is simply the latest guise for the radical critique of White culture and, all Talmudic logic about 'race as a construct' aside, the active promotion of White genocide. The hypocrisy of the Jewish architects of 'Whiteness studies' is self-evident — made clear in their total lack of identification with Whites, and in their very strong identification with Jewish culture and group interests. It is tragic, criminal in fact, that this corrupt cabal of ethnic activists and dysfunctional Communist wannabe-Jews has hijacked positions on faculty, has obtained access to elite publishing outlets, and with it, significant power and influence over culture.

The second factor at play in the success of 'Whiteness studies' is the ongoing problem of White pathology. One side of white pathology is altruism towards other races. The even more insidious side is the tendency towards self-hate.
Even according to the details of his own description of the non-jews who were involved as wannabe-jews, it's really the same single factor – a jewish intellectual movement. I find it frustrating that a mainstream figure like McHugh won't mention the jews, but will at least identify the ideas jews promote as pathogenic, whereas Joyce will bluntly identify the jews and what they're doing, but still talks about the pathological behavior of Whites as if it's something separate.
To conclude, the gist of what I'm getting at this time, which bears repeating, is that abnormal is the new normal. Trans-reality is a jewish construct.
Now more clearly than ever before in history, the problem is jewish rule. The fact is that jews are so powerful and privileged that hardly anyone in any position of power dares to openly challenge them or any of their cultural or moral dictates, no matter how obviously destructive. When supposed leaders and pundits aren't snickering nervously, mocking "conspiracy theories" about "the jooos", they're loudly proclaiming their respect and admiration for jews, as a group, as a people, and denouncing anyone who doesn't as the enemy, as literally evil. It's more bizarre really than even the controversies around Jenner and Dolezal.
My point is that jews clearly use their influence in media and academia to define and promote pathogenic memes – the fluidity of gender and race are just two prominent examples. They do this because it's good for the jews. They benefit from the almost-anything-goes atmosphere they create. In particular, they are the foremost practitioners of transracialism. They've used it throughout their history, not just recently, and not only to infiltrate and manipulate White hosts.