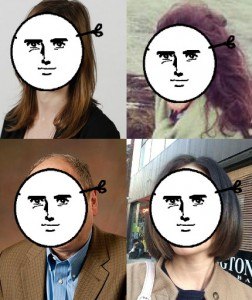 A major (((identity politics))) hissyfit spilled out of its jewniversity incubator and into the broader jewsmedia limelight over the past month or so. The controversy was triggered by "feminist philosopher" Rebecca Tuvel's paper, In Defense of Transracialism:
In this article, I argue that considerations that support transgenderism extend to transracialism. Given this parity, since we should accept transgender individuals' decisions to change sexes, we should also accept transracial individuals' decisions to change races. I entertain and reject four objections that suggest a society should not accept an individual's decision to change races.
Wikipedia's Hypatia transracialism controversy page provides a semitically correct overview of the affair so far, naming the most prominent personalities involved and linking the most significant critiques and articles. My intent is to call attention to the role jews and jewing play in the affair, a crucial aspect which has been effectively ignored and even obscured by all the squid ink.
In this case, as usual, jews are jewing away with impunity. Big-mouthed jews and their toxic ideas dominate the conversation, on all sides, across academia and media as a whole, yet it goes on unrecognized as such. What sets this particular example apart is the issue at the heart of it, so-called transracialism, which helps enable jews to jew with impunity.
Transracialism is really just a new term for an old fraud, commonly known as passing. In the case of jews passing has a long history and is better understood as a form of crypsis.
Goyposing in academia and media today typically involves jews actively posturing as "white" so as to claim the moral authority to say something poisonous to or about "fellow white people". More generally, the pretense that jews are "white" serves to shift attention and blame for jew over-representation or malfeasance onto Whites, toward whom jews actually feel no loyalty or sympathy. The effect of this white-washing also manifests indirectly in critics – jew or otherwise – who obviously feel freer to criticize jews under the pretext that they're attacking "whites".
Every facet of this fraud can be found in the Tuvel affair. Is Tuvel a jew? That's not clear, and nobody in the jewstream is even asking. Several critics and defenders assert Tuvel is "white", but there are a few indications that she's a jew, part-jew, or somehow otherwise connected to jews. For one thing, her surname is suspiciously rare and jewy. For another, she began her argument in favor of transracialism by pointedly referring to the exclusionary attitude of jews, a sore subject for mischlings/mamzers. Here's how Tuvel put it:
Generally, we treat people wrongly when we block them from assuming the personal identity they wish to assume. For instance, if someone identifies so strongly with the Jewish community that she wishes to become a Jew, it is wrong to block her from taking conversion classes to do so. This example reveals there are at least two components to a successful identity transformation: (1) how a person self-identifies, and (2) whether a given society is willing to recognize an individual's felt sense of identity by granting her membership in the desired group. For instance, if the rabbi thinks you are not seriously committed to Judaism, she can block you from attempted conversion. Still, the possibility of rejection reveals that, barring strong overriding considerations, transition to a different identity category is often accepted in our society.
Visibly jewy Nora Berenstain has been broadly cited for the earliest, most hysterical response to Tuvel's argument, though her name is omitted from many such accounts. Berenstain's Facebook post, since deleted, provides a taste of state-of-the-art semitical correctness promoted in jewed academia:
Tuvel enacts violence and perpetuates harm in numerous ways throughout her essay. She deadnames a trans woman. She uses the term "transgenderism." She talks about "biological sex" and uses phrases like "male genitalia." She focuses enormously on surgery, which promotes the objectification of trans bodies. She refers to "a male-to- female (mtf) trans individual who could return to male privilege," promoting the harmful transmisogynistic ideology that trans women have (at some point had) male privilege. In her discussion of "transracialism," Tuvel doesn't cite a single woman of color philosopher, nor does she substantively engage with any work by Black women, nor does she cite or engage with the work of any Black trans women who have written on this topic.
Berenstain's complaint was that Tuvel should have cited more non-Whites and non-men (like Berenstain) specifically because they aren't White men. This screech was soon echoed in a public condemnation, signed by more than a hundred outraged "scholars" who demanded that the publisher take down Tuvel's article. To Berenstain's cry for preferential treatment for non-White non-men they added their own, and specifically faulted Tuvel for mentioning jews jewing openly as jews:
It mischaracterizes various theories and practices relating to religious identity and conversion; for example, the author gives an off-hand example about conversion to Judaism
The initial wave of screeching about Tuvel's argument triggered an even larger wave of corporate jewsmedia counter-screeching. The back and forth echoes on still. Though plenty of the original screeching was overtly anti-White, the counter-screeching completely ignored this. To the extent any attention was paid to the limited mention of jews, it was only to dismiss it.
In fact, another reason to suspect that Tuvel has some connection to The Tribe is how her critics have chimped out almost entirely over her argument, without calling for personal sanctions, as they normally would for someone who is White. She also has many jew defenders, most of whom don't even care what her argument is, which is not something they normally do for someone who is White.
"Right"-posing jew Ben Shapiro, for example, blamed "leftist academia" and wrote:
as an Orthodox Jew, I can say that the essay characterizes Judaism's view of conversion quite properly
Academic insider jew Brian Leiter is a better example. Leiter was among the first and most prominent of the counter-screechers, but studiously avoided the anti-White/pro-jew attitudes of the screechers and instead focused on defending Tuvel from "defamation":
I confess I've never seen anything like this in academic philosophy (admittedly most signatories to the "open letter" are not academic philosophers, but some are). A tenure-track assistant professor submits her article to a journal, it passes peer review, it is published, others take offense, and the Associate Editors of the journal declare that "Clearly, the article should not have been published" and that the abuse to which the author is being subjected is "both predictable and justifiable."
He filed this claim under "Authoritarianism and Fascism Alerts". Tellingly, just last December he was mocking White genocide, filed under "Academic Freedom", hinting that jews like himself define genocide and don't see themselves as White. More tellingly, in 2010 he wrote a bit he filed under "What is Philosophy?" titled Jewish Poker:
Ephraim Kishon has a story called "Jewish Poker". Jewish poker is played without cards so all you can do is bluff – and you have to bluff high. I think that this is the secret of Derridean post-modernism as currently practised in U.S. humanities departments: in the end, it's all competitive hyperbole – who can be more radical?

Someone starts off with a huge unsupported generalization. For example, they write a book saying that the whole of Western thought is under the hegemony (good word) of (say) "logocentrism", that its genealogy has to be exposed and deconstructed to reveal the Other that it "covers over and disavows".

That's a high bid, but you can top that. Why not write a review saying that this is to give "the Other" a "hegemonic status", that this too needs to be deconstructed and given a genealogy? Say that the re-valuation of values hasn't been radical enough, that "the Nietzschean trans-valuation is far from being complete: in its second stage, at the threshold of which we find ourselves today, it will necessitate a de-hierarchization of the already inverted values, so that alterity, too, would lose its newly acquired transcendental status, just as sameness and identity did in twentieth-century thought."
Kishon described the environment not only in philosophy, but in jewed academia more generally. At the time Leiter himself noted that "the philosophy blogosphere worked itself into quite a tizzy over these remarks, no doubt because they hit so close to home", i.e. because contemporary philosophy is so jewed. Seven years later this is just as relevant to the Tuvel affair, where so much of the screeching is based on the unquestioned premise that philosophy is too White, and none of the counter-screeching tizzy has anything to do with defending Whites.
So what is the fuss? I think I covered the basics well enough in Trans-Reality. The jewed academia/jewsmedia consensus back then was to hail gender-bending Jenner as a brave hero and to mock frizzy-haired Dolezal as a bad joke. The response to Tuvel's argument about transracialism only hammers home that consensus.
Race is a social construct but transracialism isn't real, cry the jews pretending to be "white". "Racism" is prejudice plus power, cry the jews who dominate the anti-White academia and media.
One last example from anti-White jewsmedia jewess Pheobe Maltz Bovy, who literally just wrote a book jewsplaining how jews are "white", and Whites have privilege, but jews don't. In this case she wrote to say there's nothing to see here:
In The Article, Tuvel "suggest[s] that Dolezal offers an important opportunity for us to think seriously about how society should treat individuals who claim a strongly felt sense of identification with a certain race. When confronted with such an individual, how should we respond?"

I'm suggesting, in turn, that we take a step back and ask: Are we, in fact, confronted with such individuals? Because if we're not (and Tuvel admits as much), then we're giving rather a lot of weight to the well-being of made-up, thought-experiment-inhabiting people, and putting their feelings above those of people who do in fact exist and do in fact make their wishes known.

Put another way: Transgender is a thing, transracial is not. There are people who suffer tremendously from being assigned a gender at birth that does not match up with who they are. These are real people who really exist. Are there people in the same boat where race is concerned?
Like most of the screechy anti-White elite Bovy regards "transgenderism" as unquestionably natural and normal. Unlike most everyone else Bovy demonstrates how jew-to-"white" transracial goyposing works while claiming it doesn't exist:
There are certainly cases of racial identity being ambiguous, and yes, racial identity has margins. (Trust me, I'm an otherwise white person not considered white by white supremacists!) That, however, is something else.
With transracial, meanwhile, literally all that's at play – again, where actual people are concerned – is, there are many black people who find "transracial" to be, well, racist. But there isn't any competing concern of the transracial community because guess what? There isn't a transracial community, let alone an oppressed transracial community. So what you're defending, in effect, when you defend the non-existent transracial community is the right to be gratuitously offensive. Because that's the demand white people – not all, but lots – are actually making.
"Trust me, fellow white people, transracialism has nothing to do with jews or their jewing. It's all about whites oppressing blacks."