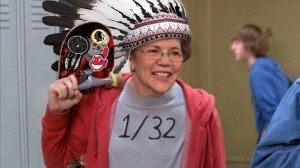 Race is a social construct, the jewsmedia regularly screeches. The lie is revealed by controversies like this.
Elizabeth Warren Releases DNA Results: She's Native American:
Sen. Elizabeth Warren has taken the extraordinary step of releasing DNA test results that provide "strong evidence" that she has Native American ancestry, the Boston Globe reports. The possible Democratic presidential contender for 2020 has been repeatedly mocked by Donald Trump and other Republicans over her ancestral claims—one of Trump's sick jokes is to call Warren "Pocahontas."
The Pocahontas gibe has never hinged on whether Warren actually has some small amount of non-White DNA. The sick joke is that, under the current anti-White regime, people in positions of power who look White are rewarded specifically for disavowing Whiteness. This reality has not changed. The jewsmedia take confirms it. It only seems humorous to Whites to the extent it strikes us as absurd, to the extent we do not understand or do not want to understand what it implies about our current situation.
What has changed, only slightly, is the jewsmedia's rule for racial dispensation. Before 2015 the only thing anyone had to do to justify their jewsmedia-defined righteousness was shit on Whiteness. Since 2015 certain figures have been checked for non-Whiteness. Warren's drop of non-White blood, real or imagined, is truly potent. It demonstrates that the lying jewsmedia recognizes race is genetic, and takes for granted that even vanishingly small bits of DNA can divide racial right from racial wrong.
Rachel Dolezal and Julia Salazar are two other recent demonstrations of this rule, though both were jeered by the jewsmedia rather than cheered.
In 2015 the jewsmedia denounced Dolezal as a racial fraudster. For years Dolezal had passed as a black among blacks, going well beyond merely renouncing Whiteness. But according to the jewsmedia she didn't have any black DNA, and therefore couldn't legitimately claim to be black.
In 2018 the jewsmedia denounced Salazar as a racial fraudster. For years Salazar had passed as a jew among jews, going well beyond merely renouncing Whiteness. But according to jews who made a point of scrutinizing her ancestry she didn't have any jew DNA, and therefore couldn't legitimately claim to be a jew.
Cohencidentally, in all three cases it is jewsmedia jews, so prone to goyposing as "fellow whites", so chutzpathically crying out about someone else's racial fraud. The jewy joke, as always, is on Whites, especially White Trump supporters, who respond to the increasingly blatant, hostile, and jewy anti-White animus by laughing brainlessly. They dislike "the media", "political correctness", and "racism", while professing love and admiration for The Tribe which defines and drives it all. This double-think is embodied in the head Pocahontas mocker, the kikeservative-in-chief himself. Pilloried daily by the jewsmedia in explicitly anti-White terms, Trump never so much as addresses his White supporters as White, never identifies the "enemy of the people", the enemy of his White supporters, as jews jewing jewily. His insincere BUILD/LOCK/DRAIN sloganeering and the insincere jewsmedia hand-wringing over it have not been replaced by jewing. The theatre is part and parcel of the jewing.
In the years to come the jewsmedia will surely push farther along these lines. Whites posing as non-White, and non-jews posing as jews, will have to do more than simply mouth support for the anti-White agenda. They'll need a DNA test. The minimum requirement for non-White/jew DNA will increase over time, because more "diversity" means less Whiteness. Though often obscured by the jewsmedia's squid ink, the litmus test for jewness and jew-constructed anti-"racism" has and always will be genetic.