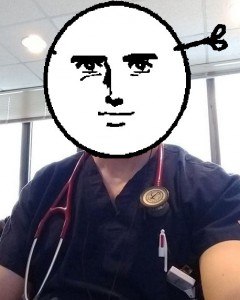 Dov Bechhofer Did Nothing Wrong is less about what Bechhofer did and more about what Greg Johnson is doing. Bechhofer has already disavowed the dissembling and dissimulation Johnson senselessly praises him for. Johnson is writing instead to argue that he, Greg Johnson, has done nothing wrong.
To make his case Johnson quotes one of the last (and most telling) of the rabbi's son's most based comments at Counter-Currents:
I've had it in my head to write a little something called "A Jewish Defense of Anti-Semitism," but it's been slipping my mind. In short, the vocal majority of Jews act so irritatingly and display such reprehensible attitudes – publicly and privately – that I'd rather see a "tempered" anti-Semitism now than see Jewish perfidy continue without consequence until, as Johnny Cash might say, the man comes around. Because he will. As I frequently tell Jewish acquaintances, if there is another Holocaust, it will be entirely of their doing
The way I read that, Bechhofer was concerned about jewing becoming too obviously anti-White, worried that the White reaction might be bad for jews, and decided to help his tribe by trying to moderate the White reaction. Such entryism is hardly new or even rare. Rather than seeing it as bad for Whites, Johnson sees it as a perfect opportunity to explain his vision of uniting Whites and jews against the people he perceives as the real problem.
The name Dov also made it highly likely he was Orthodox, which was interesting to me, because since 2016, I have been seeing signs that significant numbers of Orthodox Jewish men in their 20s are plugging into the Alt Right and White Nationalism. This phenomenon bears watching, since it may herald a split in the Jewish community, which is the major impediment to white identity politics.
The "split" Johnson sees among jews is non-White/anti-White identity politics, jews arguing with jews about what's best for jews. It's an argument that actually highlights the fact that jews see themselves as racially distinct from and at odds with Whites, and that they see it as good for jews that Whites remain confused on this point.
There is a world of difference between Jews like Michael Hart and Laurence Auster, who claim that Jews are white and seek to police anti-Semitism in the White Nationalist movement — and Jews like Dov or Gilad Atzmon, who do not try to alter our movement but instead seek to change Jewish attitudes toward white identity politics. None of them are "us." But the former are subversives. The latter are allies.
It is more reasonable to assume different jews are subversive in different ways. Bechhofer was trying to change White attitudes. When he was called out, likely by a tribemate, he responded by immediately apologizing to his tribemates.
The organized Jewish community has played a disproportionate role in creating this crisis and preventing racially-conscious whites from dealing with it. A terrible reaction is brewing. White ethnostates are the only solution.

Moreover, Bechhofer did not fall in with the juvenile buffoons, LARPing Nazis, and violent thugs who have hijacked the most important cause on the planet and driven it off a cliff. He gravitated to the best of the movement — Counter-Currents, VDare, American Renaissance — and tried to imagine humane solutions to this mess. He doesn't need "professional help" to deal with "issues." He's one of the sane ones. It is the rest of society that has gone mad.
Who is Johnson praising? A subversive jew. Who is Johnson accusing of wrong-doing, specifically "hijacking"? That would be his bugbear, "LARPing Nazis".
Johnson's greatest ally wasn't even pretending to be for Whites against jews. He was merely in favor of jews continuing to feed on Whites rather than offing us. That's what Johnson is swooning over. Johnson isn't an idiot who can't understand this. He doesn't want to understand. He's posturing as a racially conscious leader while advising Whites to welcome subversive jewing. Why? Because that is easier than admitting he is wrong.