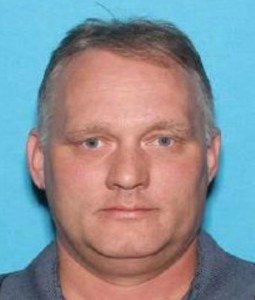 A White man, fed up with jewing, stopped gabbing and started shooting, shaking the anti-White/pro-jew regime to its core.
Pittsburgh Synagogue Shooter Identified As Robert Bowers, Yelled 'All Jews Must Die' As He Opened Fire:
United States Attorney General Jeff Sessions has issued a statement, saying the Department of Justice will file hate crime charges against Bowers for the shooting. Those charges could "lead to the death penalty."

His full statement reads:

"Hatred and violence on the basis of religion can have no place in our society," Attorney General Jeff Sessions said. "Every American has the right to attend their house of worship in safety. Today 11 innocent people were suddenly and viciously murdered during religious services and several law enforcement officers were shot. These alleged crimes are reprehensible and utterly repugnant to the values of this nation. Accordingly, the Department of Justice will file hate crimes and other criminal charges against the defendant, including charges that could lead to the death penalty.

. . .

"The Department of Justice will continue to support our state and local partners and we will continue to bring the full force of the law against anyone who would violate the civil rights of the American people."
The Latest: Trump: Americans' hearts are filled with grief:
President Donald Trump says "the hearts of all Americans are filled with grief, following the monstrous killing" at a synagogue in Pittsburgh on Saturday.

Trump told a crowd at a political rally in Murphysboro, Illinois, that "the evil anti-Semitic attack is an assault on all of us." He said: "This was an anti-Semitic attack at its worst."

The president said it must be "confronted and condemned everywhere it rears it very ugly head" Trump said "through the centuries the Jews have endured terrible persecution" and said "When you have crimes like this… we have to bring back the death penalty."
The biggest lie of our time is that Trump is somehow opposed to jewing. Bowers apparently understood this and, whether it was his intent or not, helped expose this big lie as such.