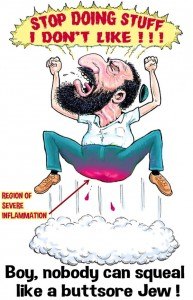 Lord Sacks renews attack on Jeremy Corbyn:
He told BBC1's The Andrew Marr Show: "Jews have been in Britain since 1656, I know of no other occasion in these 362 years when Jews – the majority of our community – are asking 'is this country safe to bring up our children'.
Arnold Leese was right. "Lord" Sacks, there's your problem Britons. He is no more than a professional screecher for his toxic tribe, against yours.
The parasite is known to have infiltrated Britain in force 600 years earlier than Screechy McScreechface claims here, carried in by their Norman hosts. Longshanks formally evicted them, with good cause, in 1290. As usual, many jews just burrowed deeper. The entire history of jews in Britain, as everywhere else they've gone, can be summed up as imposing themselves and feeding upon the natives. The jews themselves sum it up as one long continuous screech about jew safety.
"There is danger that Jeremy Corbyn may one day be prime minister, he is the leader of Her Majesty's opposition, and I'm afraid that until he expresses clear remorse for what he has said and what his party has done to its Jewish sympathisers as well as its Jewish MPs, then he is as great a danger as Enoch Powell was."

Lord Sacks said Jewish people were thinking about leaving the UK because of the current atmosphere.

He said: "When people hear the kind of language that has been coming out of Labour, that's been brought to the surface among Jeremy Corbyn's earlier speeches, they cannot but feel an existential threat."
"WE'LL RETRACT OUR CLAWS AND DETACH OUR FANGS ANY DAY NOW IF YOU KEEP REFUSING TO APOLOGIZE TO US!1!!"
Sacks' comparison to Powell and use of the term existential threat is telling. Powell opposed the existential threat immigration posed to Britons. Sacks characterizes this as an existential threat to jews. Sacks is drawing a clear distinction between jews and Britons while joining the swarming screech against Corbyn for doing the same.
Sacks' argument, translated into plain English, is: With jews, you lose.