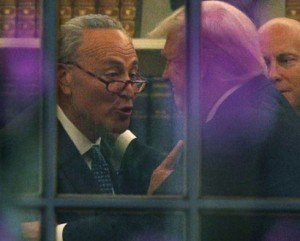 Donald J. Trump: "Congress now has 6 months to legalize DACA (something the Obama Administration was unable to do). If they can't, I will revisit this issue!"
Donald J. Trump: "For all of those (DACA) that are concerned about your status during the 6 month period, you have nothing to worry about – No action!"
Reagan, Thatcher, Schwartzenegger. Now Trump. More demonized by the jewsmedia, because his supporters are White. More supported by Whites, because dog whistling. The most "White supremacist" administration ever, more kikeservative than any before.
Like cuckoos, non-Whites screech. And like mindless reed warblers, Whites follow their cuckoo-loving misleader, because he makes the cuckoos cry. This is parasitism, no paradox.
MAGA meets DACA – same horseshit, different anti-White/pro-jew kikeservative. The White nightmare is a jew construct. Save DACA: We U.S. Jews won't let Trump end the American dream:
Like generations of immigrants before, including millions of Jewish parents and grandparents, the parents of these kids have made enormous sacrifices, not for themselves, but in the hope that their children would have a chance at a real future.

. . .

This moment should feel scary, disturbing and eerily familiar to all Jewish Americans.

. . .

HIAS is the global Jewish organization that protects refugees. We stand for a world in which refugees find welcome, safety and freedom. Guided by our Jewish values and history, we bring more than 135 years of expertise to our work with refugees. But our work is just one piece of the larger culture of equality and welcome we strive to create together with our supporters in the American Jewish community. Threats to the DACA program are not only threats to immigrants, but to justice, fairness and the longstanding values of our country.

This country's history of accepting refugees and immigrants has offered generations of Jewish Americans the opportunity to recognize our full human potential and become part of the fabric of America.
If jews actually believed their lies they'd be filling the jew state with these "immigrants" and "refugees" – instead they treat the wretched refuse like bioweapons, and deliberately aim them at the Whitest parts of dar-al-goyim.
Setting the usual lies aside, this jew state jewsmedia sandnigger self-righteously jewsplains how it is his tribemate's duty to subvert governments and borders in dar-al-goyim, because that's what's best for the jews. Miller the DACA-killer: Trump aide a disgrace to Jews, and to our common roots:
Stephen Miller's family came from my dad's village, in Belarus. Immigration is why Steve and I are both alive; now it's his job to help kill the program protecting young immigrants to the U.S.

. . .

Helping to kill DACA and curb immigration are why Steve is a disgrace to the memory of that town, to the memory of what the Nazis did there to the people who couldn't escape and immigrate to the United States.

Because once upon a time, before World War II, a Republican president and a Republican Senate and a Republican House of Representatives made a law that choked off immigration. One of their main targets was the immigration of Jews from Eastern Europe, from places like Antopol.
Meanwhile, behind the "neo-nazi"/"White supremacist" curtain, the kikeservative-in-chief's jews are jewing. Josh Caplan: "REUTERS: Jared Kushner set up secret back channel to help Dick Durbin (D-IL) lobby White House officials in favor of DACA amnesty". Trump's DACA decision followed months of meetings involving senior Democrat:
Durbin, in an interview with Reuters, described Kushner as a conduit to his father-in-law, President Donald Trump, and open to the idea of doing something to help the 800,000 Dreamers brought illegally to the United States as children.
How Trump DACA deal with Democrats could work:
But Trump may have stumbled upon a realization this week: If the Republican Party is now a cult of personality, and his base is going to like him whatever he does because of who he is, the most plausible path to increased popularity is doing substantive things that Democrats want.
The cuckoo cries out in pain, trusting the warblers will imagine this makes even the blackest suppository some kind of white pill. Trump, like other White misleaders, is no bird brain. He is where he is because he sided with the jews.