Podcast: Play in new window | Download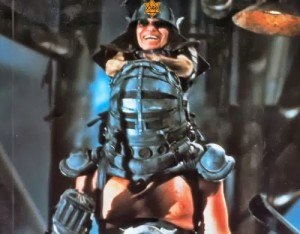 Over the past year I've invested many hours reading and talking about Yockey, especially what he had to say about liberalism and race in Imperium, his magnum opus. I dove into the effort with the expectation of finding important insights. Long story short, I didn't. Not to say it is a waste of time to read Yockey, but there are other authors a White man can and should read whose work in more concise and relevant. For instance, I would recommend any of Kevin MacDonald's work before Imperium. Even better, read Revilo Oliver's short book The Jewish Strategy.
In my opinion the flaw with the view of liberalism Yockey laid out in Imperium is that he largely ignored jewish influence on European thinking and history. Most every White historian and philosopher has. Most still do. They either ignore the jews, or regard them as fellow Europeans. In fact, this is proving to be a fatal mistake.
Whites did not stumble accidentally into the ideas of liberalism. Whites have long been infiltrated, manipulated and exploited by jews, who have all along been more fully conscious of themselves as a collective, distinct from and in fact hostile to Whites. Jews have directed the course of history, and their own destiny, exactly because they have organized and conspired to do that – to the long-term benefit of themselves and the detriment of Whites.
Though jew rule still isn't overtly acknowledged as such, it is clear enough that the jews rode the values of liberalism – freedom, equality, tolerance – straight to the top. At this point in history it is jews who command the levers of financial, social and political power. Jews rule mainly in mind rather than body, by literally defining the very morals and terms by which the governing bodies of nearly the entire globe operate.
In this short essay titled The Destiny of America, published several years after Imperium, we can see that Yockey knew quite a bit about the difference between Whites and jews. I think it's worth reading because in the sixty years since Yockey wrote, what he describes as the destiny of America has become the destiny of the world.
The version I'll read is from archive.org, which carries this introduction:
The Destiny of America is a short essay by Francis Parker Yockey in which he discusses the American history and spirit, the Jewish history and spirit, and how Jews have manipulated Americans and took power over America. It is possible that this essay, as professor Revilo Oliver suggests, is an extract from the manuscript of The American Destiny, a book which Yockey wrote but was never published because the manuscript was taken and destroyed by authorities after Yockey's arrest.
Though Yockey understood the jews as alien he still accepted the jewish narrative portraying them as historically persecuted and powerless. He misunderstood jewish parasitism and aggression as relatively recent and opportunistic behavior, as "revenge" for their "persecution". As usual, Yockey is quite disdainful of White "liberals", referring to them here as "sub-Americans with defective instincts", essentially as useful idiots for the ruling jews. This is a strong distinction from Imperium, where Yockey presented European "liberals" as rational masterminds irrationally undoing themselves.