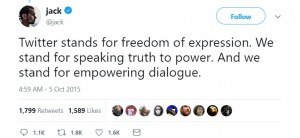 Some twits and a press release this week claimed Jared Taylor's lawyers had "won the first round" against Twitter. Reading the court transcript there are a few more realistic things to say about it.
First, hearings like this are by design biased in the plaintiff's favor. Twitter doesn't want to go to trial, so they're trying to convince the judge that Taylor's claims are baseless. The judge argued in this instance almost as if he were an advocate for Taylor. He favors a trial, but intimated several times that his attitude during a trial would be different.
Second, no surprise, Taylor's complaint does not focus on race. He is not challenging Twitter's anti-White censorship, much less highlighting the central role organized jewry has played in driving that agenda. Instead the focus of the complaint is on "viewpoint discrimination" and whether Twitter falsely led users to believe they really allow "all types of speech". The judge sees it as a public interest lawsuit. Twitter's lawyer argued that Taylor brought the suit to serve the narrower interests of himself and his non-profit organization. As he put it:
this is a suit about these two plaintiffs with an enormous public stake in this case; they say that their whole enterprise of spewing… white — you know, white racism to the world depends on Twitter; that they built their enterprise around this.
Finally, in comments like this one and the ones below Twitter's lawyer made it clear that Twitter does indeed engage in anti-White censorship and asserted that they have the legal right to do so. While trying to excuse Twitter's not-so-free speech fraud the lawyer said:
And that was not a promise that, for a — six, seven, eight years, everybody who's come onto the platform, no matter what they do, no matter whether they're white supremacist or not, contrary to the Twitter's, you know, evolved standards, that was not a promise that we never can take your account down.

. . .

Your Honor, you're suggesting that a general statement six years ago somehow binds Twitter — when does that stop? When does that — when does that stop? Twitter can't evolve, as the world changes vastly, and sees that white supremacy is having a major problem on its platform, it can't act to control that?
The lawyer admits that Twitter banned Taylor because of race. He takes it for granted they are justified to ban Whites merely for being White, at least as long as they tack on the semitic buzzterms "racist" or "supremacist". This is the heart of the issue, despite Taylor's attempt to avoid it.