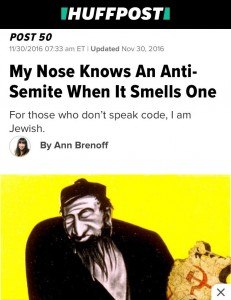 How do you define anti-Semitism? It's complicated.:
"[T]he JCC bomb threat hoax wasn't just an isolated swastika daubing — it was an ongoing story affecting Jewish institutions in nearly every American Jewish community. It shaped a communal narrative that something ugly and insidious was happening out there. And it fueled a political crisis among most American Jewish organizations and the White House, with the former accusing the latter of taking too long to denounce anti-Semitism and to comfort Jews traumatized by the bomb threats and at least two major cemetery desecrations."

Kadar, 18 at the time of his arrest in April, "deserves" the dubious distinction for another reason: He personifies a Jewish question, perhaps the Jewish question of 2017, which is, "How do you define anti-Semitism?" Kadar's circumstances are of course peculiar to him, asking if a series of hoaxes that terrified Jewish institutions stop being anti-Semitism because the caller is Jewish. The question I am talking about is both semantic and political, pitting left against right on at least two battlegrounds.
"Anti-semitism" is defined by jews. In practice the term denotes anything one or more jews don't like, as jews. They have difficultly acknowledging this, but it's not because they can't agree on what they don't like. The difficultly arises from what they do agree on, which is that "anti-semitism" is entirely a goyim malfunction and has nothing whatsoever to do with jews jewing. This assertion of theirs is both essential to and contradicted by the way they acutally brandish the term, like a weapon, using their imagined victimhood to justify their aggression, to excuse whatever harm jewing causes non-jews.
Kadar is an excellent example. Jews screeched and jews profited, non-jews weren't involved except as subordinates. The "anti-semitism" was nothing more than a supposed failure of the kikeservative-in-chief to service the jews when and how they expected. The only question jews ask is how far they can ride their loxism.
Left-leaning groups — on campus and on the outside — worry that labeling even hostile political rhetoric as hate speech puts Jews on the wrong side of the free speech debate. They say that a tool that has only recently been applied to anti-Semitic activity on campus — Title VI of the Civil Rights Act — takes too broad a brush in defining anti-Semitism and ends up blaming legitimate critics of Israel of creating an "unsafe" environment for Jewish students.

Two of the most active groups in promoting the use of Title VI — the Zionist Organization of America and the Lawfare Project — are on the right.
The jews define "hate" too, primarily as a pretext to restrict what anyone else can say or do about what they don't like. The cry-out-in-pain-as-you-strike nature of jew aggression becomes obvious whenever they try to formulate a precise meaning for "anti-semitism", and especially when they read it into ostensibly secular liberal law.
The pantomime of left-jew versus right-jew serves as a thin disguise for the fact that Title VI is simultaneously promoted and exploited by jews. The upshot is that the supposed anti-discrimination law is interpreted to discriminate jews from Whites. Organized jewry wants Whites trying to be White criminalized as "hate", while at the same time they demand their jewing be specifically privileged and protected. The courts, the schools, the corporations, all dance to jewry's tune.
On the political front, the anti-Semitic debate broke in almost exactly the opposite way: The left was quick to label President Donald Trump as a fomenter of anti-Semitism and some of his aides and minions as anti-Semites outright. The failure of the White House to name Jews in its formal statement on International Holocaust Remembrance Day — like Trump's tepid condemnation of the racist and anti-Semitic marchers at Charlottesville — was not just an inadvertent mistake, many on the left reasoned, but a dog-whistle to the nationalist, and sometimes racist and anti-Semitic, right that supported Trump.
On the political front, the jews kick and the kikeservatives lick. White voters, deracinated and demoralized, too forgiving and forgetful, get only disingenuous dog-whistling. The jews, hyper-ethnocentric and ever-moralizing, never forgiving or forgeting, swiftly swarm to pillory any figurehead who steps over one of their many semitically correct lines.
Charlottesville demonstrated that Whites cannot freely assemble and speak, as Whites, in public. The swift and hysterical reaction from the local, state, and federal governments, officially condemning Whites because "anti-semitism", demonstrated that Whites and jews are poltical opposites. Decades of phoney judicial dancing around race and privilege have suddenly been supplanted by explicit executive and legislative proclamations that the regime is officially anti-White out of deference to jews.
The ongoing chutzpathic attempt to invert this reality, to portray the kikeservative-in-chief as a tool of "anti-semites" rather than jews, merely reflects how thoroughly jewed the media and current political system are. Trump viciously counter-attacks anyone who attacks him. Everyone but the jews. When the jews kick, Trump licks.
Or maybe it's not such a new phenomenon after all, because behind the debate are a familiar series of issues that have long divided the Jewish activist class: tikkun olam vs. "peoplehood"; universal justice vs. particularist priorities; a broad human rights agenda vs. a narrower focus on Israel. A polarized political climate only created the conditions for divides that were there all along.
Their toxic "communal narrative", their hoax culture, their intersectional jewing, their left-vs-right dissembling, their constant screeching and gesticulating. No, none of this is new, only more blatant. To jewsplain their virulent collective behavior jews pretend it's more complicated than it actually is, moaning about the divisiveness they themselves manufacture. Behind it all is the same old game – two jews, three opinions how to jew.