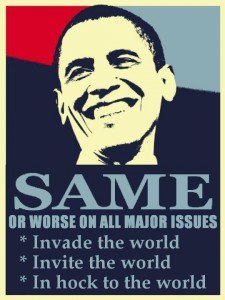 Obama: 'Lone wolf' terror attack biggest concern, CBS News, 16 Aug 2011:
"The risk that we're especially concerned over right now is the lone wolf terrorist, somebody with a single weapon being able to carry out wide-scale massacres of the sort that we saw in Norway recently," he said. "You know, when you've got one person who is deranged or driven by a hateful ideology, they can do a lot of damage, and it's a lot harder to trace those lone wolf operators."
The term "lone wolf terrorist" is a codeword for disaffected Whites. The meaning is sometimes broadened to include non-Whites, but that's not who President Don't Jump to Conclusions is talking about. He's focused on Whites, like Breivik, "driven by a hateful ideology" – by which he means those of us who oppose the anti-White regime.
How many more Whites will be killed as a result of the regime's hostile, hateful anti-White ideology?