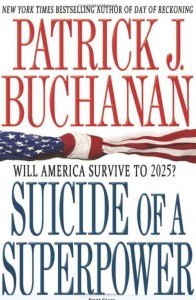 Plugging his new book, Suicide of a Superpower: Will America Survive to 2025?, Pat Buchanan concludes his 17 October column, A.D. 2041 – end of white America?, with this:
Can Western civilization survive the passing of the European peoples whose ancestors created it and their replacement by Third World immigrants? Probably not, for the new arrivals seem uninterested in preserving the old culture they have found.

Those who hold the white race responsible for the mortal sins of mankind – slavery, racism, imperialism, genocide – may welcome its departure from history. Those who believe that the civilization that came out of Jerusalem, Athens, Rome and London to be the crowning achievement of mankind will mourn its passing.
Buchanan clearly sees the malevolent, external forces at work here – the "replacement by Third World immigrants" and "those who hold the White race responsible for the mortals sins of mankind". He may as well drop the rhetorical tone and detached posture and clearly identify it as genocide. What we need are advocates, not mourners.
Of course he would be mocked and hated all the more for crying foul play. But that's exactly the point. If it were suicide there wouldn't be such venom and force directed against those who speak in favor of Whites. The hostility comes from those who discount our concerns or see them conflicting with their own. Many imagine their anti-"racism" only harms stupid/crazy/evil White "racists", not themselves.
Joan Walsh's review of Buchanan's book provides a good example. Walsh ridicules Buchanan's thesis as "silly, a crazy mashup of stereotypes and paranoia", "he sees anti-white racism everywhere". She makes it quite clear she doesn't share his concerns:
The book mourns the decline not only of white Christian America, but of Europe, since we share a common white European heritage. But then he runs down the history of European wars and ethnic nationalism, which makes me wonder what constitutes a "European" heritage or identity, other than (some comparative shade of) white skin — and why it matters anyway, if Europeans fight so much.
Walsh claims to identify with Buchanan as a fellow political pundit, especially because they are fellow Irish Catholics, though she married out. Even in her criticism of Buchanan she clearly expresses a more sober concern for the well-being of jews than Whites:
In Buchanan's dim view of civilization, it's not only white Christian countries, or cultures, that are on the decline. "American Jews seem to be an endangered species," he declares (a little comically, since he's never been a particular friend of American Jews). In fact, the U.S. Jewish population is declining, in part because of intermarriage, and each younger generation getting progressively less observant in our overall less tribalist society. But Buchanan doesn't mention any of that: he blames birth control and abortion, which is a form of karmic payback in his telling, since Jews tend to support reproductive rights. "How many of the 50 million abortions since 1973 were performed on Jewish girls or women?" Buchanan asks. "How many Jewish children were never conceived because of birth control?" It would be funny if it weren't so creepy.
No, not funny at all. Walsh criticizes Buchanan for having and defending a European identity that she could share but does not value, and she does it while defending a jewish identity that she cannot share despite her own creepy "intermarriage". Walsh isn't suicidal. She just fancies herself on the other team.