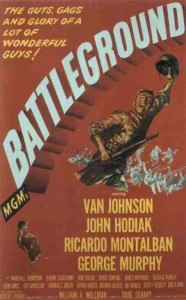 Battleground (1949), IMDb:
A squad of the 101st Airborne Division copes with being trapped in the besieged city of Bastogne during the Battle of the Bulge.
The moral of the story – a justification for the war in Europe – is delivered by a preacher. It is a brief scene whose tone and tenor stands conspicuously apart from the rest. In fact the bulk of the film, the action and interpersonal drama, can be seen as a mere delivery mechanism for this poisonous payload:
Was this trip necessary? Well, let's look at the facts.

Nobody wanted this war but the nazis. A great many people tried to deal with them and alot of em are dead. Millions have died for no other reason except that the nazis wanted em dead. So in the final showdown there was nothing left to do except fight.

There's a great lesson in this, and those of us who have learned it the hard way aren't gonna forget it. We must never again let any force dedicated to a super race, or super idea, or super anything become strong enough to impose itself upon a free world. We must be smart enough and tough enough in the beginning, to put out the fire before it starts spreading.

So my answer to the sixty-four dollar question is: yes, this trip was necessary. As the years go by alot of people are gonna forget, but you won't. And don't ever let anybody tell you you were a sucker to fight in the war against fascism.
"Let's look at the facts." The authoritative voice in The Brotherhood of Man (discussed here) used the same lie to introduce his anti-"racist" fraud.
The fraud here is, "Let's you and him fight. And don't ever let anybody tell you you were a sucker, sucker."
The fact is that the White race – the people of European descent in every country on this planet – lost that war. The jews won.
The film was written by Robert Pirosh:
His most notable success was garnering the Academy Award for his screenplay of Battleground (1949), a motion picture based on the Second World War Battle of the Bulge in which he had himself participated as a Master Sergeant with the 35th Division.
His name is in the list of Jewish Recipients of the Academy Award for Best Original Screenplay.