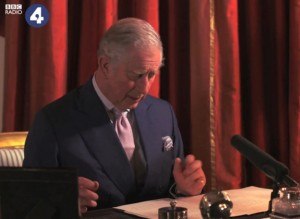 The Prince of Wales reads Thought for the Day:
We are now seeing the rise of many populist groups across the world that are increasingly aggressive towards those who adhere to a minority faith. All of this has deeply disturbing echoes of the dark days of the 1930s.

I was born in 1948, just after the end of World War II, in which my parents' generation had fought and died in a battle against intolerance, monstrous extremism and an inhuman attempt to exterminate the jewish population of Europe.

That nearly 70 years later we should still be seeing such evil persecution is to me beyond all belief. We owe it to those who suffered and died so horribly not to repeat the horrors of the past.

Normally at Christmas we think of the birth of our lord Jesus Christ. I wonder though if this year we might remember how the story of the nativity unfolds with the fleeing of the holy family to escape violent persecution.

And we might also remember that when the prophet Mohammed migrated from Mecca to Medina, he did so because he too was seeking the freedom for himself and his followers to worship.

Whichever religious path we follow the destination is the same, to value and respect the other person, accepting their right to live out their peaceful response to the love of god.

That's what I saw when attending the consecration of the Syriac Orthodox cathedral in London recently. Here were a people persecuted for their religion in their own country, but finding refuge in another land and freedom to practice their faith according to their conscience. It is an example to inspire us all this Christmas time.
Nearly two years after the invasion of Europe kicked into high gear the moral fraud justifying it remains the same.
Charles draws a clear distinction between the "populists" and "refugees"/"minorities". The former he sees as inhuman and associates with intolerance, monstrous extremism, and evil persecution of the latter, whom he sees as peaceful people whose beliefs should be valued and respected. Another important distinction is that "refugees"/"minorities" have their own countries, but also have rights and freedoms to "find refuge" in "other lands" currently populated by evil "populists", who don't.
Charles is not just saying that "populists" are bad and "refugees"/"minorities" are good. He is explaining that this is the moral of stories told by the jews, the ur-"refugees"/"minorities". He is echoing self-serving jew-centric moralizing to justify the ongoing dispossession and extermination of the European population of Europe and Whites worldwide.
The jews and the traitors who serve them are troubled. Every time they screech about "populism" they are in effect acknowledging their fraud, the unpopularity of their lies, the rejection of the pathological beliefs they espouse. They are increasingly expressing their fear and loathing for Whites, demonstrating that it has everything to do with the jews.