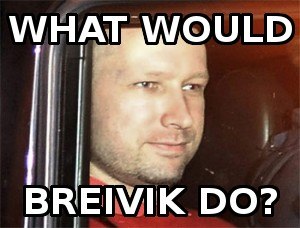 Linder Daily Commentary, 2017-05-14:
#HeroDylannRoof
He's a conscious martyr, similar to #HeroAndersBreivik. He refuses to accede in the diminishing of his own act, in the erasure of its significance. Which is what the court, the psychoanalsyts and his own defense, or some portion of the three, is trying to do. It's the same thing as that article on the alt-right concerning Nagle's upcoming book yesterday. The powers that be refuse to acknowledge the data (((their))) horrorshow called society has produced, and, in turn, refuse to admit that an honest, rational man could be driven to kill people to try to change things.
Linder Daily Commentary, 2017-05-15:
Racism: Whites Defending Themselves Is Worst crime of All
Far worst than gang rape, which the anti-White all-jew media call "grooming." This is Rotherham. You probably remember what went on there. If you're not noticing that other races are different…and threatening to your own…then you're well down the road to not defending your own kind, literally your own sons and daughters. And this is a part of what the judeo-Bolshevik scam-conception of 'racism' means. If you're not allowed to observe that X race is different from yours, and actually endangers it, then the flip side of that is you are forced to play make believe. Society becomes a form of charades. As I've said, it's akin to being a kid forced to sing "Row, Row, Row Your Boat" by the madman who highjacked your schoolbus. The jew says: "You can't call things what they are. That's hate. And it's a crime." You can only call things what we say they are. This all changes when we kill the jews, and that is the only thing that will change anything – violent racial self-defense. It's already started, it's just infrequent. Anders Breivik, Dylann Roof and Tim Mair are three who dared defend their kind.
Linder Daily Commentary, 2017-05-19:
What's the Cutting Edge for the White Movement?
Rallies have grown, and become better coordinated than in years past. That should continue. But ultimately, fine words butter no parsley. Alt-put, unapplied torches save no monuments. I believe the time for violence is here: Anders Breivik fired the starting gun for the Age of Killing the Enemy.
Linder Daily Commentary, 2017-05-22:
Liars Call It Suicide
It is murder by jew. Call it what it is. The libertarians won't. The Takimag twinks won't. White Nationalists must. Between 1997 and 2010, for example, the last Labour government allowed a staggering 2.2 million people to settle in this country, the equivalent of two Birminghams. Under David Cameron, the Tories promised to reduce immigration to the tens of thousands. Yet the latest figures show that annual net migration is about 273,000, roughly a city the size of Hull arriving every year. He observes immigration has always been "immensely unpopular." Then why are you using the term suicide instead of murder? Someone directs this. Someone the political leaders are afraid of. They're not really leaders, are they? They're cucks doing the bidding of a superior force – Soros, Rothschild, et al. The solution is to exterminate jews and all who serve them. And that's the bottom line. No one can gainsay that argument and conclusion. It is pure White gold truth.
Linder Daily Commentary, 2017-05-23:
The Latest Terror Attack: Manchester
What's the point? To terrorize people so routinely they give up and accede to a world government in order to end the terror. It says this in the Protocols. The governments letting these 'people' in know exactly what will happen. They intend it. They seek an outcome. Until jews are exterminated, there will be more of these attacks. The jewish media are on the same side as the terrorists, and so are the jew-controlled nominally Western governments.
Many Whites are starting to realize that the proper response to the situation we're confronted with doesn't involve apologizing or cucking harder. And it's starting to dawn on others, a bit farther along, that voting and demonstrating harder aren't viable solutions either.
Thanks Trump!
Alt-jew types grudgingly acknowledge there is a war on "whites". Alt-right types grudgingly acknowledge the jews are driving it. They're all basically dragging their feet, looking for a way to avoid putting one and one together, or searching for some alt-answer.
Alex Linder has a singular knack for cutting through the bullshit, identifying the crucial dots, and connecting them – clearly stating the existential threat and the justified response. As he often puts it: WHITE GENOCIDE IS (((THEIR))) PLAN: COUNTER-(((EXTERMINATION))) IS OURS.
If you alt-feel compelled to argue whether every alt-jew is responsible this merely makes you an alt-nazi, your time and energy flowing into the alt-end moderates, gatekeepers, and entryists desire.
As the old saw goes, the beatings will continue until morale improves. The war will remain one-sided until Whites stop deploring those who fight back. The problem is moral fraud, not clarity, too few Linders and Breiviks, not too many.