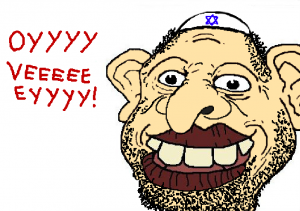 A major theme for the jewsmedia this selection cycle, especially after getting a result they didn't expect, has been to cry about how out of the ordinary this or that aspect of Trump's campaign has been. The current year's new normal is, "wow, just wow", and we can expect more of the same for the next four current years.
Of course, many aspects of the Trump campaign were extraordinary, but a truly frank discussion of the who, what, and why isn't something you can actually find in the jewsmedia unless you read between the lines. Trump's many transgressions were, vaguely speaking, violations of political correctness, which his supporters actually liked. The loudest screeching and deploring of these violations came from the jews, who created this web of taboos in the first place.
At heart the conflict is over what constitutes normal, it's about who gets to define what normal means. The jews, tremendously amplified by the jewsmedia, see themselves and their screechy, neurotic sensibilities as normal, and have for decades foisted their preferences and priorities onto everyone else. Whites, on the other hand, voted for Trump exactly because they don't like this jew normal. They imagine he might actually change it and return them to a less jewed culture they innately perceive as more natural.
A clear example of this struggle over the definition of normal is occurring right now. The cabal behind The Bannonocaust perceives it as just one battle against the "normalization" of Trumpism. It's an unselfconscious inversion of the term. The idea is that anyone treating Trump like any other candidate or president-elect has ever been treated is behaving abnormally. How many times do the jews have to announce that Trump is Hitler all over again, "anti-semitic", fueling "anti-semitism", or let's just say he's promoting "conspiracy theories", "racism", "xenophobia", "intolerance", "hate", "oyyyy veeeeeeyyyy". What is it about all these jew buzzwords the stupid/crazy/evil goys don't understand?
The tone of this screeching isn't new. What's new is the volume and the clarity with which the battle lines are drawn. The jews are at war with Whites. To see it just take a peek behind the jewsmedia curtain:
Elad Nehorai: "In case you don't think antisemitism is officially normalized in the US, take a look at @PeterBeinart's feed."
Peter Beinart: "In name of Jewish safety, America's most powerful Jewish groups normalized Trumpism. And now it's turning on us." Beinart links his own article in Haaretz, America's most influential Jewish groups have prioritized Netanyahu over U.S. Jews' safety.
David Corn: "Read this: White Nationalists Celebrate Trump's Victory and Early Appointments. (Don't Normalize Trum) #DONT" Corn links Pema Levy's article in Mother Jones, White Nationalists Celebrate Trump's Victory and Early Appointments.