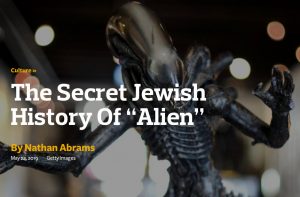 Revealing themselves and their tricks, again: The Secret Jewish History Of "Alien".
Most of the "secret" connections are tenuous, having to do with media being totally jewed. It's all just fluff padding out the core truth:
One might also consider the alien lifeform itself as an embodiment of the Jewish condition. Alone, wandering in space, it is as Ash calls it, a "survivor." The organic-machine combination gives it an androgynous quality (it is a female entity but played by a male actor, Bolaji Badejo), again something which has been leveled historically at Jewish men in particular. Technically known as a Xenomorph, its ability to blend into the surroundings of the spaceship suggest a gift for mimicry – a hallmark of the Jewish condition — echoing that of the Transformers.

The very name of the film also suggests how Jewish immigrants have been perceived in Europe and the United States as reflected in the anti-immigrant legislation in Britain specifically designed to curb a Jewish "invasion," The Aliens Act of 1905.

. . .

Finally, the alien is a relentless, remorseless exterminating machine. All biological organisms are its potential victims. In the prequel "Prometheus," a crew member describes a pile of corpses he has stumbled upon as resembling a "Holocaust picture." Thus, it has even been asked, "Can we say that behind those murderous vagina dentata of "Alien," these atrocities of the twentieth century lurk?
They didn't give the alien any lines because it would have sounded like nasally screeching in yiddish, letting the goyim know too quickly.