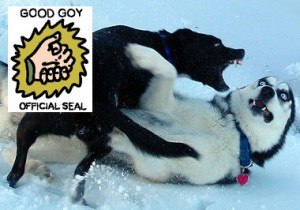 Revilo Oliver begins The Jewish Strategy with an insight which only becomes more relevant as jewish power and the elaborate efforts to disguise or excuse it make themselves ever more obvious:
IT IS A GRIM AND TERRIBLE FACT that most of the members of our own race have had their minds so deformed by centuries of cunning Jewish propaganda that they have been conditioned, as effectively as well-trained dogs, to snarl and bite when their Jewish masters utter certain key-words, such as "fascist," "racist," and the like, which take the place of the "sic 'em" to which dogs respond. They are, furthermore, so emotionally addicted to narcotic fantasies that many of them are both unwilling and unable to endure the distress of looking at the real world about them and thinking rationally about it. They understandably prefer to close tightly the eyes of their minds and live in the dream-world of pleasurable fairy tales, such as they heard in the childhood to which they subconsciously long to regress. As Kipling neatly characterized them, "If they desire a thing, they declare it is true. If they desire it not, though that were death itself, they cry aloud, 'It has never been!'"

It is a tragic and potentially disastrous fact that any candid and reasonably comprehensive analysis of our present plight not only exposes its author to surreptitious or open reprisals, but also alienates many members of our befuddled and perhaps doomed race, making them snarl and want to bite the man who would make them face an unpleasant reality. Many more are so timorous that even a hint of disrespect for Jews sends them running for cover, like frightened cats, lest the Jews punish them for having listened to impious words.
This pattern recurs in every jewed facet of reaction to jewing for the same reason "anti-semitism" follows the jews wherever they go. Jewish parasitism comprises infiltration, manipulation and exploitation. Naturally, they seek to neutralize and overcome the resentment and resistance their behavior engenders in their hosts by applying ever more of the same. From the jewish hammer's point of view everything else really is just a jew-hating nail.
Apropos "jewish manipulation of White vulnerabilities", as discussed in the comments of Gaslighting, Oliver's insight also accounts for the vector, the characteric elements of White racial mentality jews manipulate. Oliver laid out a total of seven elements in What We Owe Our Parasites. In the two paragraphs above he points to the White capacity for imagination being driven to "narcotic fantasies" and the White capacity for compassion misdirected into either snarling or sniveling. These latter symptoms are analogous to an auto-immune response – a pathological response which is, of course, instigated by and serves the interests of the pathogen, the jews.
The cure, or at least the first step toward one, is to "wake up". To recognize the fantasies and misdirections as such. To face reality, no matter how unpleasant. As Oliver put it:
A dream is by definition a series of sensations that occur in the brain when both our senses of perception and our powers of will and reason are in abeyance, so that we have no control over that flux of sensations. But it is, of course, a well-known phenomenon that when we dream that we are dreaming, the dream ends and we awaken. Then the conscious mind takes over and we are again responsible for our thoughts, and must face a day in which we must be responsible for our actions, which, by their wisdom or folly, may determine the rest of our lives. Our dreams may give expression, pleasant or painful, to our subconscious desires or fears. But in our waking hours we must, if we are rational, make our decisions on the basis of the most objective and cold-blooded estimates that we can make: estimates of the forces and tendencies in the world about us; estimates of the realities with which we must deal; remembering always that nothing is likely to happen just because we think it's good, or unlikely to happen just because we think it's evil.

If ever we have had need to appraise carefully and rationally our position and prospects, the time is now.