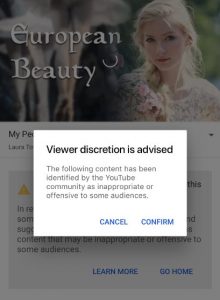 In late March Facebook announced an explicit ban on "White this" and "White that", or in practical terms, any content which the Facebook/ADL/SPLC jews interpret as implying that it's OK for Whites to be White.
Yesterday YouTube followed suit, announcing that its ban on Whites being too White was specifically in defense of jewry and their jewing. Official YouTube Blog: Our ongoing work to tackle hate:
Removing more hateful and supremacist content from YouTube

YouTube has always had rules of the road, including a longstanding policy against hate speech. In 2017, we introduced a tougher stance towards videos with supremacist content, including limiting recommendations and features like comments and the ability to share the video. This step dramatically reduced views to these videos (on average 80%). Today, we're taking another step in our hate speech policy by specifically prohibiting videos alleging that a group is superior in order to justify discrimination, segregation or exclusion based on qualities like age, gender, race, caste, religion, sexual orientation or veteran status. This would include, for example, videos that promote or glorify Nazi ideology, which is inherently discriminatory. Finally, we will remove content denying that well-documented violent events, like the Holocaust or the shooting at Sandy Hook Elementary, took place.
Most of YouTube's verbiage remains intentionally vague and generic-sounding, but at root they are discriminating and trying to segregate "holocaust" believers from "Nazi ideology" believers, promoting the former while excluding the latter.
Enabling jewing while disabling (until they can criminalize) whoever and whatever vexes jews is basically what the past several decades of "hate" rhetoric has always been about. During the Trump era the jew war on Whites has simply been transitioning from more stealthy to more overt form.