Podcast: Play in new window | Download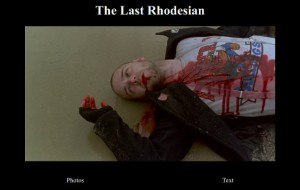 What is morality? What is sanity? What is heroism? Let's start with the last one. The hero is an ancient European archetype, indeed it's characteristically Aryan:
A hero or heroine is a person or character who, in the face of danger and adversity or from a position of weakness, displays courage or self-sacrifice—that is, heroism—for some greater good. . . . Historically, the first heroes displayed courage or excellence as warriors. The word's meaning was later extended to include moral excellence.

Stories of heroism may serve as moral examples.
Last month Andrew Anglin wrote an article, White Legends: Heroes Ransdell and Heimbach Troll Black Baseball Whiners! Matt Parrot and some other men whose names I don't know were also there, in public, verbally confronting "yet another 'racial injustice' event, wherein a group of crybabies was giving a press conference about how sad it is that Black people get arrested for committing crimes".
That is heroism. They faced danger and adversity from a position of weakness, displayed courage and self-sacrifice for the greater good. The greater good of their people. White people.
They didn't make the ultimate self-sacrifice, but nobody has to lose their life in order for their act to be seen as heroic, just as they don't have to escape with their life in order for some cowardly act to be seen as such. A hero doesn't have to succeed, though it's more likely he'll be remembered if he does. Heroism isn't a popularity contest. You can be a hero in the eyes of just one person, or nobody, while everyone else sees you as nothing better than an enemy or a troublemaker. This is true of Ransdell, Heimbach, Parrot, the others who accompanied them, and all the Whites who have ever acted in the face of danger in the interests of their race. They are heroes.
A few days ago I wrote a short article, Dylann Goes Through the Roof. I wanted to make just a few simple points, then and now. It was and still is difficult to be sure what happened and why. I think the comment Roof was purported to have made at the time was telling: "You rape our women and you're taking over our country. You have to go." I think his purported manifesto is in line with that sentiment and fleshes it out. Hopefully he'll get a chance to speak for himself in court and make it even clearer.
My main purpose in writing was to highlight the broader backdrop, the poisonous influence of the jewsmedia and the miasma of implacable non-White anti-White hostility. To confront this situation I said Whites need positive, unapologetic leaders who understand, even if only intuitively, that White concerns and morality, starting with the very definition of right and wrong, can only be legitimately rooted in what is healthy or unhealthy for Whites, as a group.
I think that was not quite right. I think the problem is that it's not just leaders but Whites generally who need to understand this, because if they did, then they wouldn't tolerate anything less from their would-be leaders. I don't want to tear down those who put themselves forth as leaders. I'm not fit to lead myself. But I do think Whites need to reexamine their values, to think about and get the basics straight. We need, for example, to understand what morality and sanity and heroism really mean. I think the root of the problem lies in our minds, in the general confusion on these elementary concepts. Because Whites think within the limits and using terms which are literally defined by a hostile, parasitic group which is only concerned about it's own best interests. Blacks are violent and destructive, but it is the jews who define any such understanding as out of bounds, as "politically incorrect" "hate speech".
When Roof's manifesto came to light his motives became clearer. Thanks to the internet, even though he was only 21 he apparently understood the basics. He understood enough to make many of the White racialists who have criticized or condemned him look foolish for leaping to the conclusion that he must have been stupid or crazy or evil.
Alex Linder twitted, Roof is a hero. The Holocaust is a giant hoax. Whites are the good guys. Jews are the bad guys. Any questions? #vnnforum and I personally thank Dylann Roof for his sacrifice. I appreciate that he did it to protect my race, which is under genocidal assualt. #hero.
My initial reaction was simple caution, to avoid senseless speculation or condemnation. I have to admit I felt reluctant to think of Roof as a hero. But I think it's more fitting than condemning him. If he wrote that manifesto and that's really why he did what he did, then Dylann Roof is a hero. Literally. He faced danger and adversity from a position of weakness, displayed courage and self-sacrifice for the greater good. The greater good of his people. White people.
White racialists can criticize his actions and argue about whether this actually was his purpose, or whether he helped or harmed that purpose. But that is the measure, the moral compass, the moral standard they should be using. Does it serve the greater good of Whites? That is the moral attitude Whites need to have in order to survive and thrive. Right now most Whites lack this basic understanding, this very basic healthy sense of group identity, the willingness to take their own side, together, against anything or anyone harmful is why we are currently in a one-sided race war.
Whites won't organize along racial lines, and are running away from the reality of race rather than confronting it. It's no surprise why. We're propagandized from birth that Whiteness is not only stupid and crazy but pure evil. In other words, immoral. Forget about fighting back with guns. Even thinking that there's something worth fighting back for is depicted as evil. Roof saw through this fraud. More than that, he eventually saw that it was a deliberate lie, not random. He was shocked when he realized that the mass media was lying about race. He says he understands the Jewish problem. I don't think he appreciates the depth of it. But for that matter many older and more experienced racialists don't either. As it is he understands more than I did at his age.
My point is that to be good leader, a moral leader, in fact to be a good moral normal healthy White person, you don't have to say anything positive about Roof, or what, why, or how he did what he did. But you shouldn't be joining in the mindless chorus condemning him out of hand. If you're afraid you'll look bad unless you say something negative, waving your hands about morality and senselessness, stop yourself. Who will look bad to whom, exactly? What might you say that could help your race? If you can't answer such questions then say nothing. If you're put on the spot, recall the Five Words: "I have nothing to say". That bit of wisdom doesn't only apply when you're being questioned by the police.
My point is that nervous Whites condemning one of their own and explaining how sad they are about dead niggers only further demoralizes Whites, because we sense that it's a lie, a sign of White weakness. It also emboldens the non-Whites, who get the same sense of it, but even more clearly because they're more racially conscious. As Roof explained, he felt compelled to act because he saw nobody else was doing so. Whites have been apologizing and retreating since before Roof was born.
Let's move on to sanity. Here I'm thinking of the many White critics who called Roof's actions senseless.
As with morality, racialists often talk about sanity without identifying or perhaps even thinking about it as such. I've talked about it quite a bit over the past six months – "White pathology", "pathological altruism", gaslighting, narcissism, and even trans-reality all have as much to do with sanity as they do with morality. The two are closely related.
Like morality, sanity is a basic concept that most Whites misunderstand. In general terms we see sanity as something good and desirable. Nobody wants to be insane. As it turns out, even the psychologists and psychiatrists who specialize in understanding such issues have trouble agreeing what exactly constitutes sane versus insane or unsane behavior.
None of the specialists will say it, but the reason for the confusion about sanity is the same as the confusion over heroism and morality. The jews literally define what these terms mean. That's why when Bruce Jenner decides he's a woman, that makes him a hero in the eyes of the jewsmedia. And for the same reason, anyone who thinks Jenner is just insane is regarded as morally defective. Intolerant is what they call it, meaning you don't agree with what the jews want you to believe. Thus you're not simply wrong, you're evil.
It works by extension, indirectly. Jews set the tone. Others adopt their definitions because they hear the media megaphones, they see the herd mooing a bit and changing direction. They maybe even tell themselves it's "sane" to want to keep in line with everyone else rather than defying what everybody else seems to have accepted and getting trampled or left behind or roughed up as a consequence.
Is it sane for White politicians to advocate that their country take in more "migrants" and "refugees", to seek them out and escort them in? Of course it is, if sane means recognizing and doing what is most likely to advance your career. Some people misdescribe this as "suicide". It's really the exact opposite. It's somebody doing something that they fully expect will benefit themselves personally, regardless of what harm it causes others.
Now here's the nub of it. Anders Breivik, in Norway, very deliberately targeted this traitorous class and their children. Alot of people said he was insane. But do you think those traitorous politicians would still consider what they're doing sane if there were more supposedly insane attacks like Breivik's? Wouldn't it actually start to concern some of these highly self-interested politicians to think that beside the reward there might be some real cost for their treason? Might some of them come to see the sense in finding a new definition of sanity? Maybe start arguing that it would be right and just to start sinking those damned boats full of invaders?
Likewise, do you think blacks would be more likely or less likely to attack Whites if there were more counter-attacks like Roof's? That's the hypothetical I'd like racialists to consider. Do you think your people would be better off with more Breiviks and Roofs, or less?
I think more. I think that the White race's problem is that there aren't more White men who see the world around them in the truly sane and morally clear terms Breivik and Roof (apparently) think in, and act accordingly. I think there aren't more because White men are confused and demoralized. I think there are plenty who are deluded by the jewsmedia and their propaganda, who end up wasting their lives on truly senseless, insane, and immoral pursuits. They may face danger and adversity. They may display courage and self-sacrifice. They may even be called heroes by the jewsmedia and their deluded friends and family. But they're not doing it for the greater good of their people, or even their country or family. Instead they kill and get killed for the benefit of aliens, to advance the interests of hostile racial enemies, maybe for a bit of money or excitement for themselves. It's pathological. It's immoral. It's insane.
Those who condemn Roof especially because he attacked blacks in a church, describing it as senseless, aren't thinking very clearly themselves. The conclusion of Roof's manifesto outlines a perfectly sensible reason:
I am not in the position to, alone, go into the ghetto and fight. I chose Charleston because it is most historic city in my state, and at one time had the highest ratio of blacks to Whites in the country.
That church has great anti-White significance, or as the jewsmedia puts it, a "rich history":
Civil rights luminaries spoke from its pulpit and led marches from its steps. For nearly 200 years it had been the site of struggle, resistance and change.
Also:
The Wednesday evening shooting occurred a day after the June, 16, 1822 slave rebellion, organized by Denmark Vesey, who was revered as one of the founders of the Emanuel AME Church. The house of worship is the oldest AME church in the southern part of the country.
That church has very likely been a hub of recent activism too, during this past year's worth of #blacklivesmatter, #handsupdontshoot, #icantbreathe complaining. Given the contents of Roof's manifesto, it's likely he understood that the target he selected, like many other "black churches", has historically served essentially as a racial headquarters for pro-black/anti-White warfare. Much like mosques serve muslims.